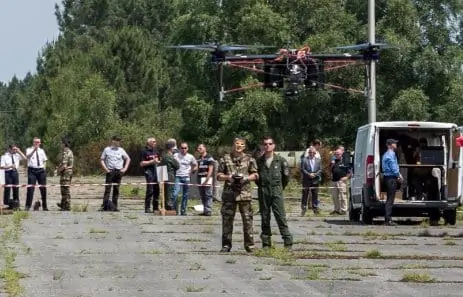 EnergyOr Technologies, a developer of PEM fuel cell systems for aerospace applications, has announced that it recently shipped the first H2QUAD 1000 to the French Air Force's Centre d'Expertise Aérienne Militaire (CEAM) as it enters into the second phase of a Joint Development Agreement (JDA). This JDA serves as the foundation to advance development of optimized long endurance unmanned aerial vehicles (UAVs) powered by EnergyOr's fuel cell system technology.
The H2QUAD 1000 acquisition, including all related support equipment, was coordinated through AEROSATSYSTEM of France.
EnergyOr's H2QUAD 1000 is a fuel cell powered multirotor UAV capable of carrying a 1 kg payload for more than 2 hours. EnergyOr is delivering a complete turn-key solution, including Ground Control Station (GCS), EPOD fuel cell system Human Machine Interface (HMI), avionics and flight controls, integrated 4K camera payload and gimbal, HPOD portable hydrogen filling station, EDAQ data acquisition and diagnostic system, as well as onsite operator training and engineering support which includes comprehensive operating manuals and assembly instructions.
"The H2QUAD 1000 is the most advanced multirotor UAV in the world and includes support equipment such as our portable hydrogen filling station, various payload options, and an extensive training program to address all of our customer's requirements, from A to Z," stated EnergyOr's CEO, Michel Bitton. "EnergyOr has now developed the capacity to manufacture and deliver highly advanced and complete fuel cell system products," Mr. Bitton added. "This full package is also available to other qualified end users."