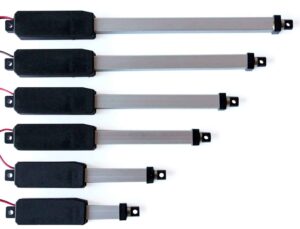 Morai Motion has launched the new Inline Nexus series of micro linear actuators. The Inline Nexus has been designed to push the boundaries and open up new possibilities for automation and more. Six different Inline Nexus models are currently available, in six stroke lengths that allow for a close fit for every application.
Compact and rugged, the new actuators are designed for use where space is at a premium. The actuators all accept 12-volt electric sources and deliver 4.4 pounds of linear force at a speed of 0.51 inches per second with a 25 Newton static load push.
The Inline Nexus actuators also include built-in limit switches and stall protection, and incorporate tough all-metal gearing and a lightweight aluminum shaft into a dust-proof, IPX 6 water-resistant case.
"We're proud to announce the launch of our Inline Nexus series of micro linear actuators," said Morai Motion representative Nicole Huntley, "The six available stroke sizes ensure a perfect fit for every application, while IPX 6 waterproofing will open up many different possibilities. We're proud to back these actuators with an industry-leading two-year warranty against defects. Our distribution partners and their customers will also appreciate our 30-day, no-hassle exchange or refund guarantee. Opportunities are now available for distributors and service providers who want to be among the first to carry or make use of this innovative series of products."
By default, most electric motors create rotary force, with the spinning movement of an output shaft resulting from a design that has a rotor revolving about or within an immobile stator as their electromagnetic fields interact. While that rotary output can be useful in many situations, others call for force that is applied in a straight line.
A linear actuator is a device that enables straight-line extension and retraction, instead. "Micro" sized parts of this kind are increasingly important to home, office and vehicle automation; robotics and animatronics; various scientific and medical technologies; radio-control hobby applications; DIY makers and electronics enthusiasts, designers and artists and others.
Morai Motion is currently accepting distributors and service providers who wish to stock the new Inline Nexus series and the company's forthcoming actuators. Those interested can get in touch using the details found on the Contact Us page at the Morai Motion website.