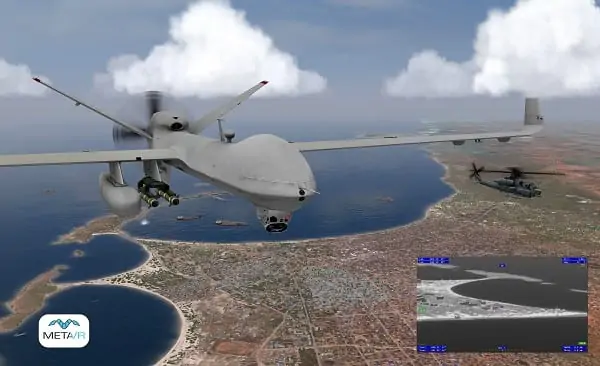 MetaVR has announced that it has sold new Virtual Reality Scene Generator (VRSG) licenses to unmanned air system (UAS) or remotely piloted aircraft (RPA) training programs for the Air Force Special Operations Command (AFSOC) Reaper Extended Range (ER) Simulator. The new licenses sold add to the nearly 2,500 VRSG licenses in use for UAS/RPA pilot and sensor operator training.
For well over a decade VRSG has been used in the US Army's UAS training simulators, primarily through the Joint Technology Center/Systems Integration Laboratory's (JSIL's) Multiple Unified Simulation Environment/Air Force Synthetic Environment for Reconnaissance and Surveillance (MUSE/AFSERS) simulation system. Within MUSE/AFSERS, VRSG provides simulated HD video feeds for various intelligence gathering platforms.
A new development effort at JSIL that involves the use of VRSG is the AFSOC Reaper Extended Range (ER) Simulator. The simulator, also known as the MALET-JSIL Aircrew Trainer or MJAT, is a plug-and-play training capability that converts a current tactical MQ-9 Reaper ER ground control station (GCS) into a training simulator. The trainer provides UAS/RPA operators the ability to conduct simulation training as part of their qualification and follow-on continuation training to maintain proficiency and currency in all required operator tasks. Like other JSIL-developed UAS/RPA trainers, the MJAT simulator uses the MUSE/AFSERS software to stimulate the tactical Vehicle Control software (VCS) to simulate GCS functions: air vehicle control, payload control, weapons control, communications, send and receive video data, and mission planning.
Last week the MJAT simulator was demonstrated at I/ITSEC by the USAF 505 Command and Control Wing and the USAF Training Systems Product Group.
A key feature of VRSG is the ability to stream real-time HD-quality simulated video with KLV metadata using the H.264 protocol, which means that when operators are not flying an actual MQ-9 Reaper ER, they can train by flying the simulated MQ-9 Reaper ER using the same hardware they use to operate the actual system, using the MUSE air vehicle and data link simulation software and VRSG.
UAS/RPA simulators that use MetaVR visuals are interoperable with JTAC simulators which also use MetaVR visuals, such as the Air National Guard Advanced JTAC Training System (AAJTS) and the Joint Terminal Control Training and Rehearsal System (JTC TRS). All MJAT simulators that are being delivered to AFSOC also use Battlespace Simulations' Modern Air Combat Environment (MACE) for computer-generated/semi-automated forces (CGF/SAF). This common baseline of VRSG and MACE provides enhanced interoperability and correlation between the MJAT and the large number of deployed VRSG/MACE-based JTAC simulators. This interoperability is critical in the simulated training environment for emulating the interaction and collaboration between Reaper operators and JTACs during real-world missions.
The MJAT simulators that are being delivered to AFSOC will soon be rolled out to sites across the US that house SOCOM's MQ-9 Reaper ER aircraft. The simulator is designed to train operators to fly the new ER variant which has a number of hardware and software upgrades to extend its special forces features.