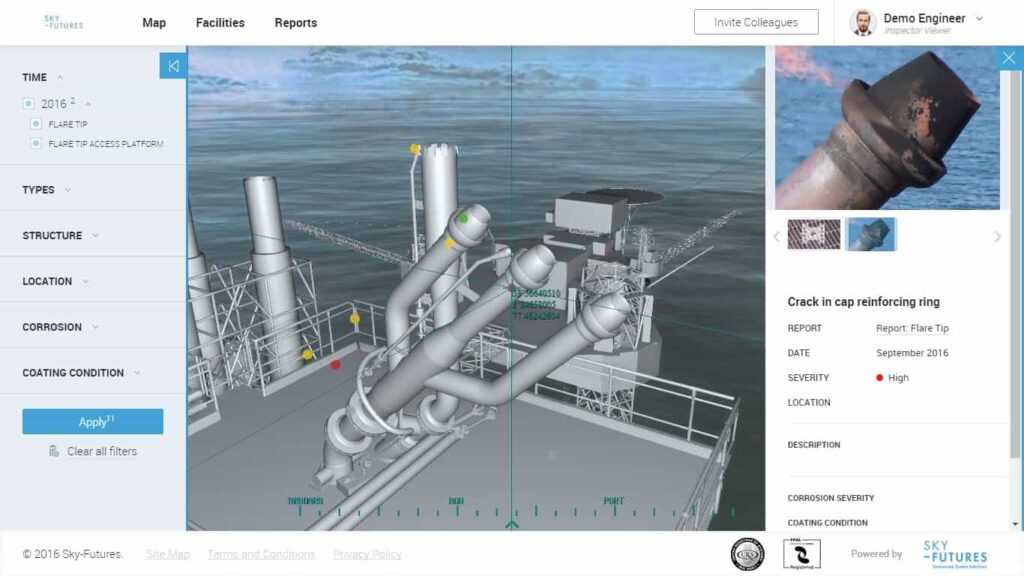 Sky-Futures, a provider of drone-based industrial inspection services, has announced that the company is making its in-house software commercially available. Expanse, a drone-based industrial inspection platform, has already been used by Sky-Futures' clients for the last 12 months, and the software has been built, designed and focused entirely on the vertical infrastructure inspection market that Sky-Futures serves.
The full enterprise package offers a complete end-to-end solution. This starts at the Sky-Futures Training Academy for Remote Pilots and inspection engineers and includes Expanse subscriptions which enable analysis and delivery of business critical integrity information in a 3D environment.
Sky-Futures has been a provider of drone-based inspection services across industries for over half a decade; the joint launch of the Expanse software package and the end-to-end drone-based industrial inspection offering is a direct response to the needs of asset integrity management. This enterprise solution supports a range of industries including oil and gas; renewables; utilities; telecoms; bridges and construction.
James Harrison, CEO and co-founder of Sky-Futures said, "As users of the software ourselves, we knew what the key requirements were to make a solid product. Our own engineers and customers made sure of that. We're excited to launch our Expanse software, enabling enterprise to manage their drone data effectively and inspection companies to professionally organize, analyze, report and present their findings to customers."
Expanse allows clients to securely and efficiently manage their inspection data; managing operations, data analysis and creating intuitive reports accessible to all stakeholders through the cloud. Clients are able to present inspection findings in a 3D environment and reach the deepest level of inspection information in two clicks. Expanse makes drone-driven data analysis accessible to users ranging from single contract inspectors to enterprise with extensive world-wide assets looking for a global view on their drone-based integrity information.