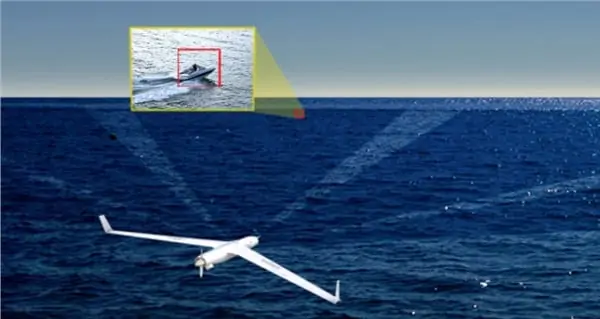 Sentient has announced that its ViDAR (Visual Detection and Ranging) optical radar has successfully completed its capability demonstration with the UK's Royal Navy at the Unmanned Warrior exercise. In front of senior representatives from the Royal Navy, British government, industry, and representatives of allied militaries from around the world, ViDAR consistently demonstrated its ability to autonomously detect small objects on the surface of the ocean over wide areas of coverage.
Integrated into the ScanEagle UAS from Insitu, ViDAR performed over 55 hours of operations through the exercise. ViDAR was tasked with a range of missions including the provision of persistent wide area surveillance, detection of fast attack craft threats, and tracking of vessels with and without AIS through choke point areas.
Despite the sometimes challenging environmental conditions, and sea states up to 6, ViDAR registered autonomous detections including rubber boats and jet skis out past 5nm, naval vessels at 10nm, and a freighter beyond 30nm. ViDAR demonstrated its ability to reliably detect objects through weather conditions ranging from clear sun to wind and rain, haze and fog. Detections were tracked and identified by operators in the ScanEagle ground control stations on land and at sea, and then passed to the Unmanned Warrior operations control teams in order to provide increased situational awareness to the vessels participating in the exercise.
"In one mission ViDAR was called upon to find a small commercial fishing vessel transiting towards the northbound NATO naval MCM group. The vessel was not registering on radar, but was on AIS. ViDAR successfully detected and identified the vessel within seconds" said Simon Olsen, Sentient's Director of Business Development, Strategy and Partnerships. "In another, ViDAR was tasked with seeing if it could find Fast Attack Craft (FAC) at range in order to provide early warning to a vessel of small inbound threats. The ScanEagle was positioned at the extent of its range within the airspace allocated for the mission. Within moments of starting its run, ViDAR autonomously detected the FAC out beyond 13nm. This fast detection and identification of such a small threat gave the protected vessel over 30 minutes of advance notice in which to act – game changing in terms of the extra time it provides to vessels to respond to potential threats."
ViDAR fits into ScanEagle as a modular slice that comprises a high-resolution digital camera that continuously scans the ocean in a 180-degree arc in front of the air vehicle. The ViDAR software then autonomously detects any object on the surface of the ocean, providing the ground control station with an image and location coordinate of each object detected in real time. The spotter sensor can then be cross-cued to the object for closer inspection.