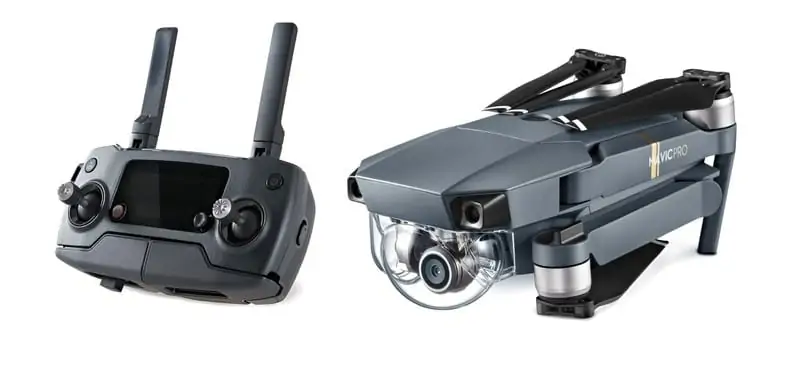 DJI has announced the introduction of Mavic Pro – a portable multirotor drone featuring DJI's most innovative flight technology in a foldable package that compresses the entire drone to practically the size of a water bottle. Mavic Pro is equipped with a stabilized 4K camera and a visual navigation system, with a 4.3 mile (7 km) range and 27 minute flight time.
"DJI has spent a decade making it easier for anyone to fly, and by rethinking everything about how a drones look, we have created an entirely new type of aerial platform for anyone to explore their creativity," said Frank Wang, DJI's CEO and founder.
"Mavic Pro is a technological triumph filled with features that once again show how DJI leads the industry. Most importantly, Mavic Pro allows you to reach the skies easily, see the world with new eyes and tell your stories like never before."
With four folding arms and propellers that tuck neatly away against its body, Mavic Pro can be easily carried in a purse or backpack, saving the user the trouble of mounting propellers before a flight. It can be operated by a long range remote controller, or by a smartphone at shorter range. When controlled by a smartphone, the whole system can be set up and airborne in less than a minute.
Find suppliers of Multirotor Drones >
Mavic Pro's new FlightAutonomy system, providing stability, maneuverability and safety, consists of five cameras, GPS and GLONASS navigation systems, a pair of ultrasonic range finders, redundant sensors and 24 powerful computing cores. FlightAutonomy can position, navigate and plan routes for Mavic Pro, enabling it to avoid obstacles in various environments, with or without the help of satellite signals. FlightAutonomy provides a significant boost in working range and can cope with complex 3D environments. For navigation and obstacle avoidance, FlightAutonomy provides a speed-range envelope to make Mavic Pro self-navigational in various intelligent flight modes, and will avoid most obstacles at speeds up to 22 mph (36 kph).
A light and aerodynamic airframe, together with DJI's propulsion and battery system, enables Mavic Pro to fly for up to 27 minutes. Mavic Pro can be switched to Sport Mode, which allows speeds of up to 40 mph (64.8 kph), increasing the drone's agility and responsiveness. Mavic Pro flies smoothly and will remain stable in winds of up to 24 mph (38.5 kph), and uses DJI's GEO geofencing system to help identify restricted areas, preventing flight in locations that might raise safety or security concerns automatically, and helping pilots make smarter decisions about when and where to fly.
As with all DJI drones, Mavic Pro is set to automatically return to its launch location if it ever loses contact with the controller or reaches critically low battery levels. The new Precision Landing feature records a burst of video with two stereo cameras every time Mavic Pro launches, then uses both video and satellite information when it returns to land within an inch of where it took off. If a pilot lets go of the controls, the drone will simply hover in place.
Mavic Pro includes DJI's smallest-ever three-axis gimbal for shake-free photos and video. The autofocus camera features a minimum focusing distance of just 19 in (0.5 m) and can be flipped 90 degrees to portrait mode for vertical selfies and video. Mavic Pro records 4K video at 30fps and full 1080p HD at 96fps. Its 12-megapixel camera with Adobe DNG RAW support has been tuned for aerial images. With the help of the high-precision gimbal, the user can shoot 2-second-long exposures in the air.
A new compact remote controller has been designed to provide a fully ergonomic experience with optimum comfort, and can accommodate a smartphone or control Mavic Pro on its own. Its built-in LCD screen displays essential telemetry data, while dedicated buttons for functions such as Return-to-Home and pausing during Intelligent Flight modes ensure a confident flight. The video link system, OcuSync, supports a range up to 4.3 miles (7 km) and live view resolutions up to 1080p.
The new band management algorithm makes OcuSync more robust in environments with many frequencies in operation. Mavic Pro is equipped with dual-band WiFi as a secondary link, allowing easy control via a smartphone for close range operation or for quick downloading of content from Mavic Pro straight to a mobile device.
Using a phone's touchscreen, the user can use TapFly to direct Mavic Pro, avoiding obstacles along the way. FlightAutonomy also makes it possible to control the drone completely with just gestures. In Gesture mode, gestures can be used to have Mavic Pro locate the user, center the user in the frame and take a shot as Mavic Pro's flashing lights count down to the photo. Footage can be streamed to Facebook Live, Periscope and YouTube through the DJI GO app.
An updated version of DJI's ActiveTrack recognizes common subjects such as people, bicyclists, cars, boats and animals, which then sends Mavic Pro to follow behind, lead in front, circle above or track alongside the subject, keeping the camera focused on the subject while the user concentrates on flight maneuvers. The new Terrain Follow mode means that the user can race up a slope behind a subject while remaining at a constant height between 1 ft (0.3 m) and 33 ft (10 m).
At the other extreme, the new Tripod Mode is designed for indoor use, slowing and fine-tuning Mavic Pro's position and angle based on controller movement inputs to allowing for precision framing and safe indoor flight.
Mavic Pro also pairs with DJI's new immersive DJI Goggles, displaying an 85-degree view from the drone in full 1080p for a true bird's-eye view of the world below. With built-in OcuSync, the goggles receive video directly from Mavic Pro in the air and not through the controller, reducing lag to a minimum – and allowing the user to share the in-flight view. Specially designed for aerial first-person view (FPV) applications, DJI Goggles allows you to flick between third person view and FPV in under a second.