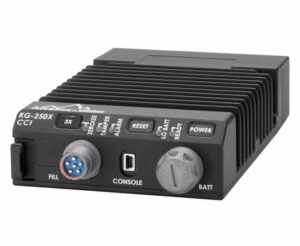 ViaSat Inc., a global broadband services and technology company, has announced that the company's latest KG-250XS and IPS-250X secure network encryptors are now National Security Agency (NSA)-certified.
ViaSat's latest products offer tactical communications networking for classified information with low size, weight and power (SWaP) rugged Type 1 High Assurance Internet Protocol Encryptor (HAIPE) technology.
The ViaSat KG-250XS is the company's lowest SWaP, rugged HAIPE IS v4.1 network encryptor. It weighs approximately 10 ounces and delivers 20 Mbps (aggregate) speeds, making it ideal for Top Secret / Sensitive Compartmented Information (TS/SCI) applications that have size and weight constraints such as telecommuting, flyaway kits, executive communications and tactical unmanned aerial vehicles (UAVs).
The ViaSat IPS-250X is a HAIPE Inline Network Encryptor and supports the secure exchange of classified information up to the Secret level. It is designed to protect IP connections among U.S. warfighters, coalition partners and government agencies, regardless of deployment location and without the expensive logistics or lifecycle costs often associated with Controlled Cryptographic Items (CCI). The IPS-250X is packaged in a low SWaP rugged form factor and complies with NSA Cryptographic High Value Product (CHVP) non-CCI policy. It is ideal for high-risk and unmanned environments.
"For decades, ViaSat has been safeguarding U.S. government, military and defense missions by securing classified information sent over IP," said Jerry Goodwin, chief operating officer, Government Systems Division, ViaSat. "Achieving NSA certification on our latest encryption products, the KG-250XS and IPS-250X, is another important milestone in expanding ViaSat's cyber defense portfolio to give warfighters great flexibility in how they securely communicate with commanders, regardless of where their mission takes them."