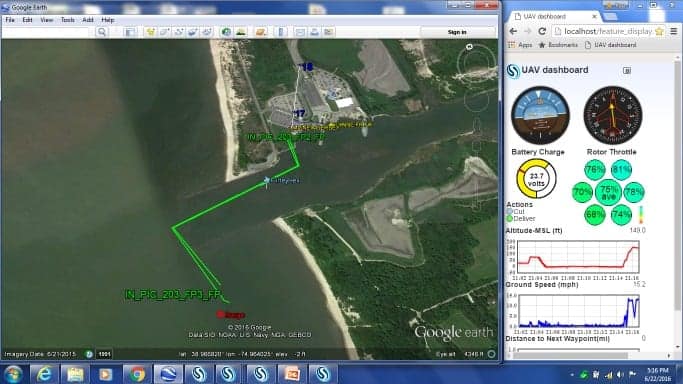 Simulyze, Inc., a provider of operational intelligence (OI) technology and applications, has announced the successful deployment of its enterprise-level Mission Insight OI application in support of the first U.S. ship-to-shore drone delivery.
Taking place on the New Jersey coastline, the Drones in Disasters "Do Tank" event featured independent drone delivery service Flirtey and Dr. Timothy Amukele, assistant professor of pathology at Johns Hopkins University School of Medicine, demonstrating the potential use of unmanned aerial vehicles (UAVs) to deliver medical supplies during a natural disaster or humanitarian crisis.
"The ship-to-shore delivery is a template for how to integrate data from drones into existing data flow and make it possible for drones to operate safely in U.S. airspace," said Kevin Gallagher, CEO of Simulyze. "The demonstration, which included processing and visualizing data about ships, manned aircraft and UAVs, further emphasized the critical need for having a broader, real-time picture than just knowing the location of your UAV."
Mission Insight is built on Simulyze's proprietary OI platform, and processes and analyzes large streams of data from disparate sources to provide UAS operators with a common operating picture in a customized graphical interface. It can also be used by UAV operators, command centers, air bosses and mission managers as a workflow tool to submit flight plans, monitor aircraft status and telemetry, activate flights and transmit aircraft position data.
In the ship-to-shore drone delivery, Simulyze's Mission Insight application was deployed to provide:
Real-time processing of telemetry data from the Flirtey UAV
Augmented geospatial and dashboard views of operational data to provide the air boss with situational awareness to support a safe flight both within the National Airspace and the local area airspace
Integrated data processing and display of a number of local sensors to bring in a local Automatic Dependent Surveillance-Broadcast (ADS-B) aircraft feed to augment the overall FAA aircraft feed, GPS tracking data from various key participants of the exercise, maritime tracking data through a local Automatic Identification System (AIS) receiver for key deconfliction in the operational area, and a local weather station
An integrated display of FAA aircraft data and NOAA weather information for key parameters such as winds aloft and cloud base
Real-time alerting of flight boundary violations and other potential flight conflicts
FAA's William J. Hughes Technical Center provided real-time, regional aircraft position data and Mission Insight provided aircraft telemetry and other local data to FAA's Tech Center.
The ship-to-shore flights were part of a Drones In Disaster "Do Tank" event convened by Field Innovation Team (FIT), a disaster preparedness nonprofit group. The event brought together five agencies from the United Nations, the American Red Cross, leading academics and numerous drone technology companies to educate the private sector about the potential of drones as disaster relief tools, and to conduct aeronautical research about integrating drones into the National Airspace System (NAS).
Additional support for the event came from Ryan Media Lab, New Jersey Innovation Institute (NJII), the Delaware River and Bay Authority, the County of Cape May, Rutgers Center for Advanced Infrastructure and Transportation, Atlantic Cape Community College, and Luftronix.
Simulyze's Mission Insight has previously been successfully deployed in support of NASA's Technical Capability Level 1 UAS testing. In the first and largest demonstration of its kind, NASA and operators from six UAS test sites across the country flew 22 drones simultaneously during a three-hour test to assess line-of-sight, rural operations of NASA's UTM research platform. Simulyze directly supported operations at two UAS test sites and provided simulated flights as an enterprise-level solution that integrated all aspects of multiple flight operations into a single interface.