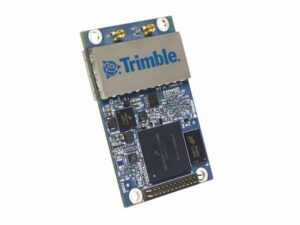 Trimble, a developer of positioning and navigation solutions, has announced the introduction of the Trimble MB-Two, a GNSS module that delivers highly accurate GNSS-based heading plus pitch or roll in an advanced industry standard form-factor for system integrators. The module's embedded Z-Blade GNSS technology uses all available dual-frequency GNSS signals equally, without any constellation preference, to deliver fast and stable centimeter-accurate position and heading information. The MB-Two is an ideal solution for a wide variety of applications such as unmanned, agriculture, automotive, marine and military systems.
The announcement was made at AUVSI's XPONENTIAL 2016 trade show for the unmanned systems and robotics industry.
"System integrators demand high performance, reliability and support for their positioning solutions," said Elmar Lenz, general manager of Trimble's Integrated Technologies Division. "The MB-Two is designed for easy integration and rugged dependability. The size, weight and power specifications of the unit make it the ideal choice for smaller unmanned platforms."
The MB-Two features an enhanced dual-core GNSS engine with 240 channels capable of tracking L1/L2 frequencies from the GPS, GLONASS, Galileo and BeiDou constellations. The GNSS engine supports Trimble RTX correction services, including CenterPoint RTX and RangePoint RTX, delivered worldwide via L-Band satellite. The MB-Two combined with CenterPoint RTX delivers centimeter-level positioning without requiring a local base station or VRS network.