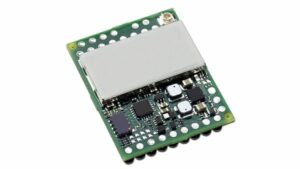 Rockwell Collins, a provider of aerspace and defense technology solutions, has announced that it will provide up to 2,000 of its MicroGRAM GPS receivers to Northrop Grumman and unmanned systems technology firm Neya Systems for integration in Neya's Autonomous Behavior Capability Module, in support of Increment 1 of the Naval Surface Warfare Center's Advanced Explosive Ordnance Disposal Robotic System (AEODRS).
"MicroGRAM provides the Navy's AEODRS program the small, embedded, secure GPS necessary to ensure mission success," said Mike Jones, vice president and general manager of Communication, Navigation and Electronic Warfare Solutions for Rockwell Collins. "MicroGRAM continues to be selected for a variety of military platforms as the need to protect against jamming and spoofing threats is growing rapidly."
Rockwell Collins claims that MicroGRAM is the world's smallest, lightest, lowest powered SAASM-based GPS receiver. It enables military micro-users who require secure Position, Navigation & Timing (PNT) to comply with U.S. DoD policy that all combat and combat support systems use SAASM-based GPS devices.
Jones added that MicroGRAM's capability is critical at a time when threats to commercial GPS are increasing.
"The use of unprotected commercial non-SAASM GPS devices has inherent vulnerabilities which introduce a false sense of situational awareness on the battlefield," said Jones.
Increment One of the AEODRS program is the first of three that will be fielded. The program worked with industry to understand the technical challenges associated with a family of open architecture robots. The Navy leads this joint program to develop a family of explosive ordnance disposal (EOD) robotics for all the U.S. services.