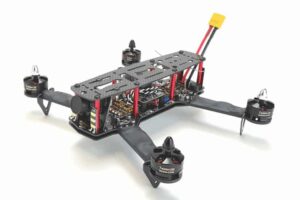 Atlanta Hobby, a designer and manufacturer of unmanned aerial vehicles (UAVs), has announced the release of its new racing quadcopter, the Katana KMR 250. The KMR 250 is built around a lightweight all-carbon 250-class airframe, and aimed at both first time racers and professionals.
Find suppliers of Multirotor UAVs >
The KMR 250 system features a new power distribution board, 20 amp opto-electronic speed controls (ESCs), 2204-2300 high performance Twister brushless motors, a 700 line CCD camera, and an Acro NAZE 32 flight controller. The racer is available in an Almost-Ready-To-Fly (ARF) version and a fully assembled Bind-N-Fly (BNF) version.
Other key features include:
Switchable front and back lights
Built in 5V/3amp BEC
Lost model alarm
Battery voltage tester
3 or 4S battery input
Filtered power ports for First Person View (FPV) equipment