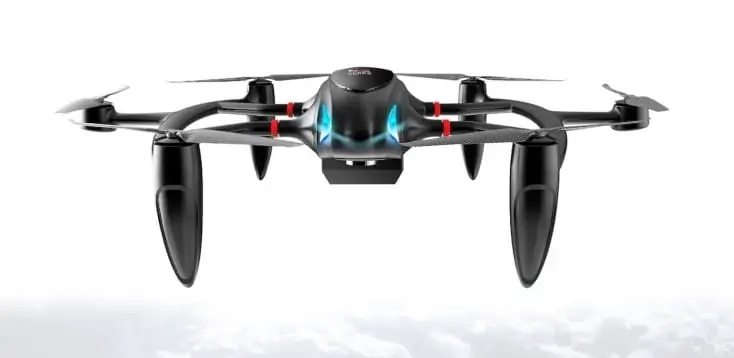 Micro Multi Copters Aero Technology Co., Inc. (MMC), a developer of VTOL Multirotor UAVs, has announced the launch of the HyDrone 1800, a hydrogen-fueled drone. The HyDrone's alternative source of energy keeps it in the air for more than 4 hours and gives it a radius of up to 100km with a live video stream, and the drone works in temperatures below -20 Celsius.
Hydrogen fuel solves all the shortcomings of a traditional LiPo battery. It is long-lived, unnecessary to recycle, harmless to the environment, functions in low temperatures, and provides up to 8 times longer flight time than a regular battery. The gas requires the constant presence of oxygen, but is not affected by low temperatures, thus expands the usage of drones into northern and southern latitudes. Transported at 13MPa, hydrogen gas is being compressed into the drone's tank at 30MPa. The tank, designed with composite carbon fiber material, has been successfully tested from a 200m drop. The UAV's shell is made of water/dust/fireproof carbon fiber, specially designed in MMC's R&D center, expanding the UAV's usage into not only in very cold, but also very hot areas.
At the launch, Mr. Lu, MMC's CEO, spoke of the actualization of alternative source of energy, hydrogen, and its drastic influence on the UAV industry. He further explained that because it is fueled by hydrogen, HyDrone is a suitable answer to current problems fighting crime and terrorism. Due to HyDrone's longevity and ability to reach distances of over 100km with constant video feed, Mr. Lu predicts significant improvement in current solutions, and even larger usage within the security, policing and inspection industries.
Apart from the press and the VIP end-users, numerous foreign and domestic subject matter experts presented analyses of the HyDrone 1800 and general UAV developments in China. Mr. Chen, MMC's CTO, also commented on the general importance of recent technological advancements in China and their influence on the world.