Kokam Co., Ltd, a provider of innovative battery solutions, has introduced a variety of new high energy battery solutions based on its advanced Ultra High Energy Nickel Manganese Cobalt (NMC) battery technology. With an industry-leading energy density of 265 Watt hours per kilogram (Wh/kg), the new solutions enable military, commercial and industrial unmanned system manufacturers to pack more energy into their Unmanned Aerial Vehicles (UAVs) and drones, Unmanned Ground Vehicles (UGVs), Unmanned Surface Vehicles (USVs) and Unmanned Underwater Vehicles (UUVs), without increasing the weight or size of these systems' batteries, enabling them to extend these systems' operating times, or add additional components to them.
Find suppliers of Battery Solutions for unmanned systems > 
With an energy density of 265 Wh/kg, Kokam's new Ultra High Energy NMC battery solutions have a higher energy density than other unmanned system battery solutions on the market, which typically have energy densities ranging between 150 to 200 Wh/kg.
"Military, commercial and industrial customers want unmanned systems with longer operating times and more capabilities, without sacrificing reliability or performance," said Ike Hong, vice president of Kokam's Power Solutions Division. "Kokam's new Ultra High Energy NMC battery solutions meet this need, allowing manufacturers to store more energy in their unmanned systems and extend their operating times, or shrink the battery size and add more components."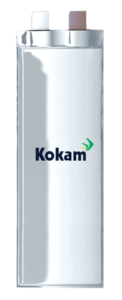 Kokam's new cells are available in capacities ranging from 10 ampere hours (Ah) to 240 Ah, and can be purchased as individual cells, in packs or as complete systems. Kokam offers its battery solutions in a variety of sizes and weights, and can customize the size of a cell, pack or system upon request.
Kokam has been delivering battery solutions to the unmanned system market since 1999. Currently dozens of leading military, commercial and industrial unmanned system manufacturers around the world use Kokam's battery solutions to power their UAVs, UGVs, USVs and UUVs, including industry leaders Trimble, ECA Group and FT Sistemas. Today many leading militaries around the world are using unmanned systems powered by Kokam batteries for critical air, ground, surface and underwater missions.
Kokam will showcase its new Ultra High Energy NMC battery solutions, along with its High Power NMC battery solutions for high power unmanned system applications, at XPONENTIAL Booth 1572.