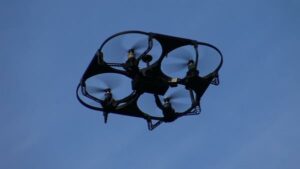 FreeBird Flight, a developer of commercial unmanned aerial vehicle (UAV) technology, has announced the FreeBird One, a UAV with structurally enclosed rotors, the ability to carry a 20-pound payload, and nearly all weather operation. The Freebird One is quickly and easily customizable because of its 3D-printing manufacturing process, and features a live 3D video feed to a VR headset for precise maneuvering near objects.
"UAV technology is evolving rapidly, and quickly moving beyond the hobby and aerial video markets, into areas such as construction and public safety," said FreeBird Flight's Founding Partner and Chief Architect Roger Freeman. "With that growth comes important responsibility for both those who operate them and those who develop and manufacture them. That's why we're thrilled to offer the safest airframe technology with our structurally enclosed SurroundFrame."
Find suppliers of VTOL UAVs >
Find 3D Printing Manufacturers >
Many consumer and commercial UAVs today have dangerous free-spinning propellers, necessitate near perfect weather conditions, have short flight times, and limited redundancy of key electronic systems. The result of these limitations is often having the UAV fly too high and too far away from their operators.
"With the introduction of the FreeBird One, we hope to spur the industry to raise product safety and performance standards across the board by introducing FAA-friendly products that allow private-sector innovation to continue to flourish," said Freeman.
The company claims that what sets the FreeBird One apart from the rest of the UAV market (visually and functionally) is the proprietary, patent-pending 3D-printed SurroundFrame. The SurroundFrame is a 3-foot (diameter) carbon fiber airframe and body with structurally enclosed blades. It bears the ability to bump into and along objects such as a wall or fence without causing property or vehicle damage or injuries – and has significant flat storage capacity for electronics around the vehicle.
Key performance features of the FreeBird One include:
At 14 lbs (with battery) and 8 lbs (sans battery), FreeBird One can fly up to 30 minutes.
Max horizontal speeds range 50-70 mph (depending on motor and propeller configurations), with vertical speeds (both ascent and descent) of up to 3,000 ft/ min.
The SurroundFrame has enclosed blades, a flight controller with its own power source (to insulate from voltage fluctuations under heavy current draw from motors and assist in vehicle search and recovery) and redundant GPS.
The FreeBird One is a turn-key system solution, but for customers requiring further built-in customization or specialized mounts, FreeBird Flight can accommodate custom requests due to its ability to make on-the-fly design changes to the 3D-CAD model and preview the renderings for customers before 3D printing the system. Additionally, customers who want to customize the entire flight system can purchase the SurroundFrame independently either assembled or as a DIY kit to install their own components.
The FreeBird One is designed to be used anywhere in nearly any weather, including wind, rain and snow conditions.