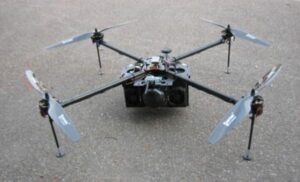 EnergyOr Technologies Inc., a developer of advanced proton exchange membrane (PEM) fuel cell systems and integrated UAV platforms, has announced that it has launched the H2Quad 1000, a multirotor drone with 1 kg payload capacity and over 2 hours of flight endurance.
EnergyOr's CEO, Michel Bitton, stated: "The H2Quad 1000 is an industry game-changer. It not only has the ability to carry 1 kg of payload for more than two hours, it can fly a distance of up to 80 km which provides unprecedented multirotor performance." He continued by saying: "There is no other multirotor drone available with this capability. Even so, EnergyOr will continue to push the envelope and develop fuel cell powered multirotor platforms with even longer endurance and more payload capacity."
The extended range of the H2Quad 1000 makes it ideal for mail, parcel or component delivery, whether for commercial, medical or military purposes. EnergyOr claims that it effectively triples the delivery radius that is currently possible with existing multirotor UAVs, and thus the potential delivery area is increased by a factor of 9 times.
The commercial market for multirotor drones used in civil applications is expected to increase dramatically in the coming years, with new uses being announced on a daily basis. Current applications include disaster response, hydro and rail line inspections, flare stack inspections, precision agriculture, search and rescue missions and film production, just to name a few. Battery powered multirotor UAVs have very limited flight times due to the relatively low specific energy (Watthours/kg) of existing rechargeable battery technologies.
EnergyOr will exhibit at the AUVSI Xponential Conference and Exposition in New Orleans as part of the Canadian Pavilion.