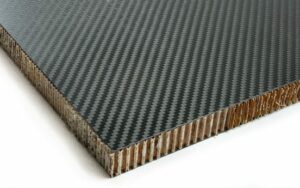 Dragonplate, a tradename of composites engineering and manufacturing firm Allred & Associates, has announced that it has developed new high modulus carbon fiber sheets with a birch core. The product is suitable for a wide variety of applications, including industrial automation, UAVs and drones, medical imaging, and aircraft interiors.
The carbon fiber sheets can withstand temperatures of up to 250 degrees F and are highly machinable. In addition to the standard carbon fiber, options for high modulus and ultra high modulus pitch carbon fiber are offered, which increase the panel stiffness by up to 3 times when compared to standard carbon fiber.
Find suppliers of Materials for unmanned systems >
High modulus carbon fiber core sheets offer substantial weight savings over metal and fiberglass. As a comparison, an ultra high modulus carbon fiber panel with wood core can be designed to have a stiffness to weight ratio of 8-10 times that of aluminum or steel.
By applying this technology to industrial automation end of arm tooling, for example in injection molding or packaging equipment, cycle times can be reduced, vibration eliminated, and often smaller robots can be utilized, all translating into cost savings. In injection molding applications, the ability to decrease weight also means the machine can run faster, thus reducing cycle time.
For drones and other unmanned air and ground vehicles, eliminating unnecessary weight means improved performance, and in particular endurance and payload capacity.
Dragonplate also offers honeycomb or foam core options, which offer further weight savings and improved stiffness to weight ratios.