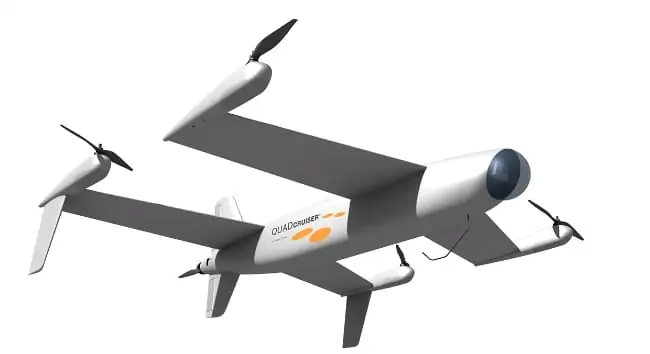 Airbus, in conjunction with vehicle technology firm Local Motors, has announced the launch of the two firms' joint pilot project for the co-creation of the next generation of commercial drones. The launch comes shortly after the announcement of the first investment of Airbus Ventures in Local Motors.
The kick-off for the project will take the form of an open competition offering the opportunity to identify and design a drone air vehicle configuration, featuring enhanced-safety commercial operation for civil purpose, particularly cargo transportation.
The top selected projects will then be reviewed before potentially becoming part of an industrial program. Attractive incentives will be awarded along with many opportunities for the top winners.
The starting design of this competition would be Airbus Quadcruiser's hybrid concept, combining the VTOL (Vertical Take-Off and Landing) and hovering capabilities of the well-known quad-copter design with the speed and cruise efficiency of a fixed-wing aircraft by using an additional pusher motor.
By partnering with Local Motors, Airbus Group will leverage the synergy of Local Motors' experience and expertise in global co-creation and local micro-manufacturing with its depth of technical and engineering knowledge as a major aeronautical manufacturer.
"The opportunity to work with Airbus allows Local Motors to expand its proven co-creation expertise into the aerospace sector," said Local Motors co-founder and CEO Jay Rogers. "When we harness the power of the crowd, we can innovate and iterate on products at a pace many manufacturers didn't think was possible. We advance hardware at the pace of software."
"This partnership underlines the high interest of the Airbus Group to engage in the commercial drone segment, challenging traditional aerospace processes and driving our organization towards adaptability in this dynamic and rapidly growing market," said Jana Rosenmann, SVP Head of Unmanned Aerial Systems at Airbus Defence and Space.