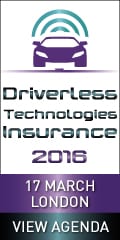 Assess the Impact of Advanced Driver Assistance systems on Insurance Liability and Pricing in the Short and Long Term
The entire motor insurance industry is very aware that driver assistance technologies help reduce the number of accidents on the roads. Insurers increasingly ask what risks and opportunities are presented by current and future technologies.
Driverless Technologies Insurance 2016 is the result of extensive consultation with motor insurance experts from across the UK and Europe. This summit will take place in London on 17 March 2016 and will give motor insurance carriers and technology manufactures the opportunity to:
Hear insights into the plans of vehicle manufactures and app developers
Determine where liability will sit during the transition period between today and full autonomy
Clarify the new protocol on data ownership, so insurers can get the full benefit of communicative technology
Ensure that legislation keeps pace with technological advances
Know how an increased use of driver assistance technologies will impact claims and how this will feed through to pricing
Understand the specific risks introduced by automated vehicle technologies and ensure compliance
Know how motor insurers can evolve, create new product offerings and remain relevant in a world of increasing automation.
Confirmed Speakers Include:
Jürgen Weichert, Head Of Global Product Development, Allianz
Bettina Zahnd-Sinzig, Accident Research, AXA Switzerland
Doug Jenkins, Manager Risk Control- Motor, AXA
Karl Gray, Global Head Of Casualty & Motor, Zurich
Dan Freeman, Head Of Motor Development, DirectLine
Tim Marlow, Head Of Autonomous & Connected Vehicle Research, Argeas
View the full speaker line-up >
Interactive panels will enable attendees to discuss and identify the stages of technological development over the coming years and determine where liability lies during the transition period.
Presentations will reveal the effectiveness of a variety of driver assistance technologies, based on real world claims data.
For more information visit www.driverless-technologies-insurance.com