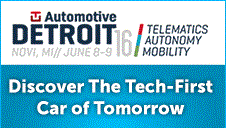 TU-Automotive have announced the agenda and speaker line-up for TU-Automotive Detroit 2016 (June 8-9, Novi), the world's largest conference & exhibition dedicated to innovation in automotive technology, covering connected cars, autonomy and mobility.
At TU-Automotive Detroit industry leaders and disruptors from Audi, Mercedes-Benz, Fiat Chrysler Automobiles, Jaguar Land Rover, Zipcar, Techstars and more will lay out their visions for the future of the car in the digital society as automotive draws the eyes of industries, governments and consumers worldwide.
The brand new agenda and line-up can be viewed here: www.tu-auto.com/detroit
The message of this year's conference is clear: for automotive to take a leading role within the rapidly expanding connected world, collaboration of efforts, resources and competencies is needed within companies and across the industry.
Gareth Ragg, Managing Director of TU-Automotive, said "Last year we saw the emergence of three core trends in automotive: connectivity, mobility and autonomy. This year, these are coming together to form one pillar in automotive strategy, connecting with the wider connected world."
He continued, "As ever, TU-Automotive Detroit provides the place for executives working in this space to uncover new businesses and trends, and network with 3,000 attendees to build the partnerships that will grow their business and influence."
This year's TU-Automotive Detroit promises to answer every pressing question facing the industry, including connectivity, ADAS, mobility models, insurance, data, infotainment and more.

Collaborate to put Auto in the IoT Driving Seat
A.I. CHANGES THE GAME: From infotainment to safety services; harness the awesome power of machine learning to transform the car into an accident free, personal companion
EMBRACE CYBERSECURITY: Collaboration, standards, ISAC's – the foundations have been laid. Now take action to mitigate the risk to your products, customers and future of auto
SMART CAR MEETS SMART WORLD: Reimagine vehicle design, HMI and UX as the car plugs into the home, city and 'things'
READY FOR ROBOT DRIVERS? With rapid developments in sensors, software and silicon, can we skip straight to Level 4? Or do consumers and gov't need more convincing of the reliability of SDCs?
THE AUTO "ACCESS ECONOMY": Rip up the rule book on vehicle sales, insurance and industry partnerships! Create a smart mobility blueprint for auto brands in the on-demand world.
Hear from over 150 leading experts, including:
Kaye Ceille, President, Zipcar
Kal Mos, Vice President, Mercedes-Benz R&D North America
Bret Scott, Head of Silicon Valley Future Technologies, Fiat Chrysler Automobiles
Matt Jones, Director of Future Technology, Jaguar Land Rover
Tom Gebhardt, President, Panasonic Automotive
Bryan Reimer, Research Scientist, MIT/MIT AgeLab
Mark Dipko, Director Corporate Planning and Strategy, Hyundai Motor America
Dr. Ulrich Quay, Managing Director, BMW iVentures
Scott Reynolds, Audi Mobility Business Development Manager, Audi of America
Register here to secure your pass: http://www.tu-auto.com/detroit/register.php.
Enter the following discount code during online registration to save $100 on all conference passes: 4312UMST.