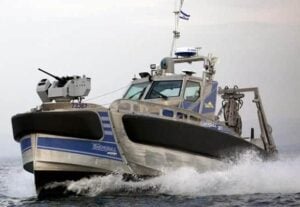 Kraken Sonar Inc., a developer of Synthetic Aperture Sonar (SAS) technology, has announced that its wholly-owned subsidiary, Kraken Sonar Systems Inc., is to supply its KATFISH towed sonar system to Elbit Systems Ltd., a major international defence contractor.
Elbit has already unveiled a state-of-the-art Unmanned Surface Vehicle (USV) named "Seagull". The Seagull USV is a multi-mission platform boasting high autonomy levels and modular features, allowing it to be rapidly reconfigured for a wide array of missions – including anti-submarine warfare and mine countermeasures.
"Elbit's Seagull USV is one of the most advanced ocean drones in the world – one that will save lives," said Karl Kenny, President of Kraken Sonar. "When our Synthetic Aperture Sonar is integrated on Elbit's Seagull USV, the system can provide remotely operated, unmanned, end-to-end mine hunting operations. These ocean drones can detect very small objects hidden on the seabed and enter confined spaces where underwater explosives are likely to be hidden. Since robotic systems can be remotely operated their use can remove people from very dangerous missions – in essence, taking the sailor out of the minefield."
The Seagull is a 40-foot autonomous launch that can be fitted with mission modules for Anti-Submarine Warfare (ASW), Mine Counter Measures (MCM) and force protection / patrol, including a stabilized, remotely operated .50-caliber machine gun and wire-guided torpedoes for stand-off destruction of naval mines and underwater Improvised Explosive Devices.
The new maritime warfare system is the latest product to emerge from Elbit Systems Inc. The company has considerable experience in unmanned surface vessel systems, including the 30-foot Silver Marlin and the 10-foot Stingray USV platforms, plus a 30-year track record with unmanned aerial vehicles.
Elbit's Seagull system supports online operation in known and unknown areas, conducting area survey, search, detection, classification, identification, neutralization and verification. It also equipped to launch and recover other underwater robotic sensors to identify and neutralize mines. Seagull can be operated via a remotely controlled Mission Control System from the shore or from other naval assets at sea, performing missions lasting more than 96 hours (four days) at a time. Inherent networking capability supports enhanced situation awareness.
The highly autonomous sailing suite includes a patented navigation system, with obstacle avoidance, which considers the international regulations for preventing collisions at sea.