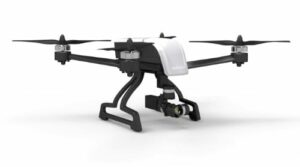 ZEROTECH, a developer of intelligent drone solutions, has announced a commercial VTOL UAV based on the Qualcomm Snapdragon Flight platform. YING uses the Snapdragon 4K capture to "supersample" video images, providing a stabilized, corrected video and picture recording at 1080p as well as first person view at 720p that can be directly streamed or uploaded to drone social community platforms Wexin and QQ.
ZEROTECH has co-designed YING with Internet service portal Tencent. YING is a small, lightweight drone that can be easily controlled from a smartphone, leveraging the companies' advanced software, and the computational power of the Qualcomm Snapdragon 801 processor.
"As the industry's leading unmanned aerial vehicle (UAV) manufacturer, we continue to bring a range of new research and development products to meet the needs and demands of our customers across various industries," said Jianjun Yang, Founder, ZEROTECH. "We're excited to work with two companies who are technology leaders in their space – Qualcomm Technologies who has brought their mobile expertise to the consumer drone industry, and Tencent with its popular social networks, to bring a lightweight, highly integrated consumer drone that enables users to share their photos and videos instantly with their friends."
"The consumer drone market is expected to soar in the next few years, and YING is a good example that shows how Tencent is working closely with the fast growing drone market by enriching use cases of our core and leading social communication services," said Roland Cai, vice president, IEG, Tencent. "ZEROTECH's expertise in UAV manufacturing and, Qualcomm Technologies' highly integrated drone development board coupled with our social networking platforms allows us to provide our hundreds of millions of active users with a competitive price on a high quality drone such as YING that can share their experiences in real time."
Snapdragon Flight is a highly optimized 58x40mm board targeted specifically for consumer drones and robotics applications. Snapdragon Flight is based on the Snapdragon 801 processor, with GPS, 4K video capture, and robust connectivity, along with advanced drone software and development tools, bringing cutting-edge mobile technologies to consumer drones.
"Consumer drones are becoming the ultimate selfie camera but with advanced capabilities such as 4K capture and high performance computing and connectivity," said Raj Talluri, senior vice president, Qualcomm Technologies, Inc. "We are tapping into our proven mobile technologies for the exciting drone opportunity, and teaming up with ZEROTECH and Tencent enables us to support smaller, smarter drones that deliver real-time content to China's largest social media network."