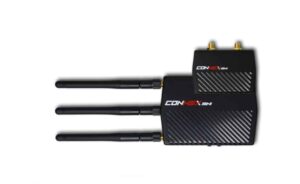 Amimon, a developer of HD wireless video transmission solutions for the professional video and broadcast markets, has announced the introduction of its new CONNEX mini high-performance wireless HD video link for smaller, lighter aerial drones. CONNEX mini delivers full HD video quality, zero latency, digital transmission reliability, encrypted transmission for live and sensitive shots, and multicasting functionality at distances up to 1,600 feet (500 meters).
CONNEX mini is the first product line extension of Amimon's CONNEX transmission solution specifically designed for aerial video production applications on drone platforms.
"Our new CONNEX mini delivers all of the same great performance attributes as CONNEX in a smaller form factor for lightweight aerial drones that do not require long distance transmission capabilities and have limited payload capacities," said Ram Ofir, CEO, Amimon. "CONNEX mini opens up a whole new horizon for aerial video production applications such as local news gathering, inspection and security, as well as for wedding videos and real-estate property documentation. The potential for new and exciting applications is limited only by one's imagination."
The CONNEX mini transmitter unit, which mounts on the drone itself, measures 65 x 45 x 15mm, and weighs 40 grams. The receiver unit, which may be mounted on the drone remote control, measures 100 x 71 x 18mm and weighs 140 grams. Features include full 1080p HD video at 60 frames per second, zero latency, a range of 1,600 feet (500m), AES 128 encryption for secure transmission, and multicast reception for up to four receivers. CONNEX mini also provides telemetry and control solutions for S-bus, CANBUS and PPM drone controllers, and features an HDMI video interface on the receiver.
"Of CONNEX mini's extensive features, it is important to point out that the system's multicast functionality allows a pilot to steer and position the drone, while a videographer controls all camera pan/tilt/zoom functions simultaneously and independently," explained Mr. Ofir. "This allows aerial videographers to achieve precise shot framing and never miss a critical shot, which increases production efficiency saving both time and money."
For added convenience and ease of operation, CONNEX mini is compatible with Amimon's app which is available for Android and Apple laptops. The app makes CONNEX mini even easier to set-up and manage in the field, allowing users to start shooting faster with professional results.
"Like our CONNEX solution for higher end broadcast and film production applications, CONNEX mini is a game changer as the aerial drone platform continues to rapidly evolve with smaller, faster and more versatile products, and the demand for low-cost aerial video production solutions continues to grow across multiple markets," said Mr. Ofir. "Amimon is proud to be at the pinnacle of the aerial video production movement by offering innovative products that make wireless HD fly."