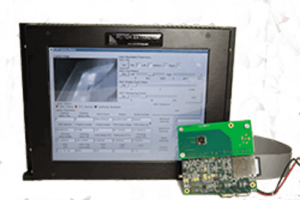 Micro/sys, a developer of COTS embedded single board computers, and FLIR, a manufacturer of innovative imaging and infrared systems, have announced that they have achieved interoperability of FLIR's Lepton® infrared camera sensor with Micro/sys' SBC1656 single board computer. The partnership allows embedded users to implement infrared thermal vision on ARM® Linux single board computers, creating a COTS system that is ideal for OEM security, automation, smart device, gaming, robotics, and unmanned applications.
FLIR's Lepton sensor, the most compact OEM longwave infrared (LWIR) sensor available, is provided as a stack-on board to Micro/sys' SBC1656 COTS single board computer. Lepton's 80 x 60 pixel resolution and
Embedded customers no longer have to undertake the time-consuming process of matching one manufacturer's single board computer to another manufacturer's infrared camera sensor, and can skip the complicated integration between the Lepton sensor, Micro/sys SBC, customer application program, and output display. This plug-and-play combination drastically reduces time to market for thermal imaging applications.
For an immediate development environment, Micro/sys' DKV1656 Development Kit includes the SBC1656, Lepton sensor plug-on module, and all necessary cabling and power. Also included is a powerful layer of vision software – Infrared Imaging Module – with a Linux Yocto build, a thermal imaging console program, and integration for OpenCV vision processing libraries and GStreamer image and video streaming packages, making development of infrared-based smart sensing platforms easier.
Susan Wooley, President of Micro/sys said, "We are excited about this opportunity to work with FLIR cameras on our ARM line of SBCs. Our development kits are a tremendous value to OEM camera users because they provide turn-key Linux BSPs with a Vision Layer of firmware giving users command line programming of application programs when the SBC is first powered up."
"We are extremely pleased to see the integration of Lepton into such a powerful development environment," said Bill Terre General Manager for FLIR's OEM and Emerging segment. "Micro/sys has a rich history or delivering innovative solutions to users, and we are excited that Lepton is now operable in their SBC1656 single board computer."