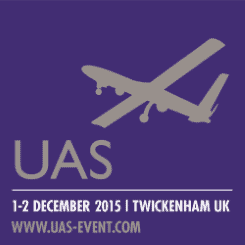 UAS 2015, in association with UAS CDC, is taking place at Twickenham Stadium, London from the 1-2 December 2015. Now in its fourth edition, the event will explore unmanned systems across the full spectrum of the defence and security domain embracing land and maritime systems, as well as air.
UAS 2015 is delighted to confirm this year's keynote address will be delivered by Rear Admiral John Kingwell. As Director Development, Concepts and Doctrine Centre, he is responsible for the production of horizon-scanning strategic trends, concepts and doctrine – underpinned by thorough research and experimentation – to help inform decisions in Defence strategy, capability development and operations, and to provide the foundation for joint education, both now and into the future.
Other confirmed speakers include:
Commander Bow Wheaton, Maritime Capability – Aviation, Royal Navy
DCI Colin Smith, CT Police Adviser, Home Office Science – Centre for Applied Science and Technology (CAST)
Professor Agostino G. Bruzzone, Project Leader M&S, NATO Science & Technology Organization, Centre for Maritime Research and Experimentation (CMRE)
Simon Ahlberg, Senior Scientist, Division of Sensor and EW Systems, Swedish Defence Research Agency (FOI)
Peter Goodliff, Security Engineer Manager, Thales.
'Recognising the need for a platform to unite the defence unmanned sector, from the military through to industry, UAS 2015's comprehensive programme promises to deliver a breadth of high-level and ambitious presentations provided by key figures shaping this rapidly developing community.' – Philip Sturley CB MBE BSc FRAeS, Air Marshal RAF Retd, UAS 2015 Conference Chair
The exhibition floor will host companies such BAE Systems, Cobham, Institution of Mechanical Engineers and Galleon Embedded Computing. The official event partner is UAVS (Unmanned Aerial Vehicle Systems Association). The conference is run in association with UAS CDC and is supported by Unmanned Systems Technology, Geoconnexion, Shephard Media and SUAS Global.