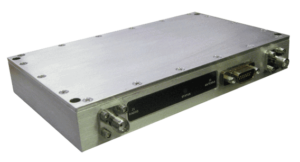 Triad RF Systems, a designer and manufacturer of RF/Microwave amplifiers and amplifier systems, has announced the release of its latest bidirectional solid-state power amplifier, the TTRM1076.
The class A GaAs amplifier module is designed for both military and commercial applications and offers high power density, efficiency, and linearity in a small, lightweight package. It is capable of supporting any signal type and modulation format, including but not limited to 3-4G telecom, WLAN, OFDM, DVB, and CW/AM/FM. This wide range of capabilities makes it ideal for communications applications such as Unmanned Aerial Vehicle (UAV) data links and long range point-point COFDM video links.
The high-speed transmit/receive switching and sequencing of the power amplifier, low-noise amplfier and switch driver circuitry is performed by an on-board CPLD, where switching timing can be adjusted by the user in firmware, based on system requirements. The transmit section produces over 25 Watts of BPSK power, and over 6 Watts of 64 QAM. The unit also features a three-color status LED on the front panel that shows if the amplifier is in transmit or receive mode, or if an alarm condition exists.
The module can be outfitted with an optional heatsink, and its housing is weatherproofed to IP66 rating.