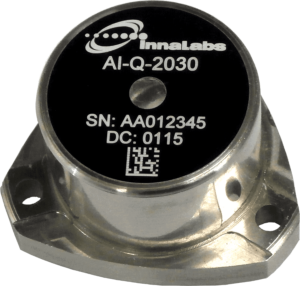 InnaLabs Ltd., a developer of high-quality accelerometers and gyroscopes, has announced the release of the company's new navigation-grade performance accelerometers at the Inertial Sensors and Systems Symposium Gyro Technology Conference in Karlsruhe, Germany.
Utilising state-of-the-art Quartz Servo technology to provide high accuracy, repeatability and stability even in the harshest of environments, these accelerometers allow system designers to meet the increasing demand for greater accuracy and reliability across a broad range of applications, including unmanned aircraft and other unmanned systems.
Extending InnaLabs' portfolio of ITAR-free accelerometers, the AI-Q-2020 and AI-Q-2030 offer very high input range and excellent long-term repeatability, which make them optimal solutions for AHRS (Attitude Heading and Reference Systems) and also strap-down INS (Inertial Navigation Systems) in aerospace, marine and land applications.
"In navigation, inertial sensing is a key necessity," said Mr. Dmitri Simonenko, CEO of InnaLabs. "In GPS denied areas, the high performance offered by these new accelerometers from InnaLabs® is vitally important to be able to produce best-in-class Inertial Navigation Systems capable of maintaining an accurate picture of position and heading."
Key Features:
High Input Range: ±60g
Bias: <4mg
Scale Factor: 1.2 to 1.46mA/g
Input Voltage: ±13VDC to ±28VDC
One Year Bias Composite Repeatability: 160µg & 220µg
Navigation Grade Performance