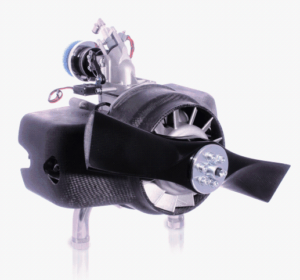 3W International, a developer of Heavy Fuel engines for the Unmanned Aerial Vehicle (UAV) industry, has announced that the company will begin to offer complete UAV engine systems to its customers, including application-specific solutions as well as off-the-shelf products.
"The AUVSI 2015 event in Atlanta has shown clearly that the market is demanding complete engine systems. This means that customers are looking for engines with all of the additional systems such as generators, starters, cooling jackets, engine mounts, exhaust systems, and so forth. Conversations with interested parties at the trade show have confirmed this," explains Peter Wintrich, Head of Engineering at 3W International.
The German engine manufacturer has developed silencers in-house for many years, holding several patents in this area. The engines can be delivered ex works fitted with an ignition system and either an in-house silencer or a silencer from another renowned manufacturer. "We can guarantee that the engine runs at 100%, because we test each engine on our in-house company test stands," commented Wintrich.
Since each customer has different specifications, a variety of motor-generator combinations is possible. In order to facilitate the customer's engine selection, 3W-International has developed engines such as the 4-cylinder 3W-440xiB4 TS HFE FI. The engine is manufactured with a ring on the engine-fixing plate, which can be adjusted to the required diameter and length of different generators and starters.
All additional components such as the engine mounting or cooling-air cladding are customer-specific, as the engine's position in the UAV varies with manufacturer. "We can actively support the developer with questions about the engines' mounting and cooling. We know how our engines have to be effectively cooled in order to achieve the best performance and how the engine has to be optimally positioned in the UAV," added Wintrich.
Both heavy-fuel engines (HF) and petrol engines can be outfitted and delivered with this service. HF engines are generally delivered with the injector, heat collector, immersion heater, fuel preheater, and temperature control unit. The injector can also be exchanged for a carburettor in individual cases. 3W-International also offers fuel injection as an alternative to the carburettor.
3W International has more than 30 years of experience in designing, manufacturing and testing 2-stroke engines, manufacturing their products locally to ensure a tighter control on quality.