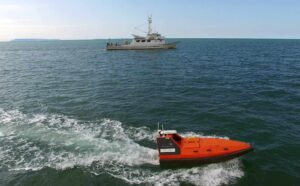 The first use of an Autonomous Surface Vehicle (ASV) to perform bathymetry for updating the U.S. nautical charts for NOAA occurred in the Alaskan Arctic this summer. Surveying alongside TerraSond's mother-vessel, the Autonomous Surface Vehicles' vessel collected data simultaneously on adjacent survey lines, effectively doubling the production rate. The ASV also surveyed by itself in areas too shallow and dangerous for the larger vessel to work, eliminating some risk to the surveyors.
"This is a force-multiplier for data acquisition. Operated in a semi-autonomous mode, unmanned but supervised, one person can replace the three person crew it would normally take to operate a survey launch; it is definitely the future of seafloor mapping." says Tom Newman, President of TerraSond.
Demand for hydrographic surveys for charting purposes is not going away. According to the 2012 NOAA Hydrographic Survey Priorities (NHSP), 511,000 square nautical miles of the U.S. seafloor is classified as "navigationally significant" and in need of modern, full-coverage surveys. Since 1993, when full coverage sonar surveys began, only about 39,000 SQNM or 7% has actually been completed. Without significant advances in technology, such as the use of ASVs, surveying the navigationally significant areas will require many decades or even centuries.
The Autonomous Surface Vehicles team supported TerraSond throughout the duration of the survey, which was funded by the U.S. National Oceanic and Atmospheric Administration's Office of Coast Survey (NOAA-OCS) as part of their mission to update the Arctic's nautical charts.
TerraSond has been providing surveys under contract to NOAA for updates of the U.S. nautical charts since 1998.