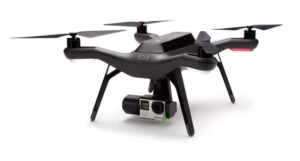 AGCO Corporation, a manufacturer and distributor of agricultural equipment, has announced the release of the company's new Solo AGCO Edition Unmanned Aerial Vehicle (UAV). Utilizing intuitive mission planning and cloud-based, high-resolution mapping software, the UAV aims to free farmers from having to wait on slow and low-resolution satellite imaging or to scout their fields by foot or vehicle.
The UAV can fly in up to 25 mph winds and has a max speed of 55 mph. Each fully charged, smart battery is capable of covering up to 60 acres, depending on conditions and user-defined settings, with an average flight time of 20 minutes, fully equipped. The kit comes with four batteries, providing the ability to scout up to 240 acres in one trip.
"We thought through everything a farmer needs to not only scout their fields, but also collect useful data beneficial to managing their farm and improving yields and efficiency," says Jeff Punter, manager of purchasing for AGCO Parts.
The Solo AGCO Edition is built on 3D Robotics' Solo platform and utilizes a three-axis Solo Gimbal, accessory bay and swappable motor pods, allowing for easy integration of future technology and features.
The UAV is equipped with auto takeoff and landing, as well as emergency in-air brake and return-to-home features. The product includes in-app training and configurable settings in order to accommodate varying operator skill levels.
The kit includes two cameras, customized for aerial imaging — an RGB camera for color imaging and a near-infrared camera for monitoring photosynthetic activity, or plant health. These cameras, paired with the included one year of Agribotix imaging software, produce high-resolution Orthomosaics, Normalized Difference Vegetation Index, and Field Health and Management Zone maps to provide farmers insight into their fields and help them find potential yield-limiting problems early.
"The SOLO AGCO EDITION is our field mapping solution for the everyday farmer," says Darren Parker, director of sales and marketing for AGCO Parts. "You do not need to be tech savvy to operate this UAV, you just need to be able to press launch."
Image processing history, maintained in the cloud, allows for comprehensive field condition comparison, making it easier to have precise placement of fertilization and irrigation resulting in improved yields. Live flight data — including the battery life, altitude and distance from home — are all streamed to the operator's controller for real-time flight control.