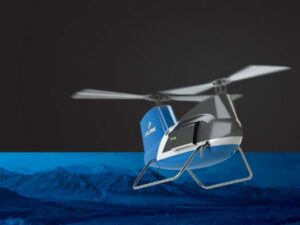 Laflamme Aero Inc., a developer of unmanned aerial vehicles (UAVs), has announced the launch of a $2.3 million project for the development of a 300-kg unmanned helicopter, the LX300. The company claims that the new aircraft will be one of the largest commercialized civil UAVs in the world. The two-and-a-half-year project will culminate in demonstration flights of the system by 2017. The project is funded in part by the Consortium for Aerospace Research and Innovation in Canada (CARIC).
Other partners involved in this project are N.G.C. Aerospace, Roy Aeronef and Avionique Simulation, and Sinters America, who are respectively developing the aircraft's guidance, navigation and control system, a high-definition simulator, and a specialized computer system. This consortium is supported by two universities: Polytechnique Montréal and the École de Technologie Supérieure (ETS). Laflamme Aero will be the project leader, allowing the company to demonstrate its expertise and technologies, which were largely developed on its LAF-01 helicopter project.
"For this project, we have successfully joined four high-tech companies, each of which possesses a complementary know-how. In order to additionally strengthen our technical expertise, we are also collaborating with professor David Saussié from Polytechnique who possesses an incredible expertise in control laws; and with professor Pierre Bélanger from the ETS who has a remarkable experience in instrumentation, following his last four years with the Vodafone McLaren Mercedes Formula 1 team. So we have quite a team behind us," says Laflamme Aero president Enrick Laflamme.
The targeted applications for the unmanned helicopter include agriculture, mining prospection, search and rescue as well as naval applications. "This is a unique opportunity to put forward the helicopter expertise our company has been developing for the last 30 years. The industrial applications we are targeting demand automated commercial-type helicopters, as reliable and high-performing as certified manned helicopters," adds David Laflamme, general director of Laflamme Aero.