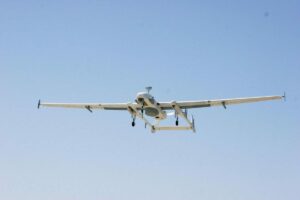 Israel Aerospace Industries (IAI) and Thales, companies that provide electronic systems for the aerospace and defense sectors, have announced that they have successfully conducted risk reduction flight tests for the integration of Thales and Elisra's NATO STANAG 7085 data link on board the Heron Medium-Altitude Long-Endurance unmanned aerial vehicle (MALE UAV).
Through a joint effort between IAI and Thales, Thales's data link terminal, the TMA 6000, together with Elisra Radio Frequency Modules and antennas, have been integrated on board the Heron system and successfully demonstrated in flight. During the flight test, both infrared and daylight videos were transmitted in real time to the ground control station, and the sensors were controlled in real time from the ground.
The TMA 6000 complies with NATO STANdard Agreement (STANAG) 7085: the waveform standard for real time transmission of videos, images and other Intelligence Surveillance Reconnaissance (ISR) data from on-board sensors to dedicated ISR stations. This compliance ensures NATO interoperability and guaranties radio frequency authorisation in full alignment with the International Telecommunications Union (ITU) regulation, as well as high resistance to jamming and interception. The TMA 6000 offers exceptional radio performances with a throughput capability up to 137 Mb/s.