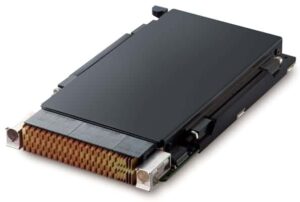 ADLINK Technology, a provider of embedded computing solutions, has announced its newest GPGPU (general-purpose computing on graphics processing units) blade, the VPX3G10, featuring a 384 CUDA core NVIDIA GeForce GT 745M GPU matched with the NVIDIA VPX GPGPU card for multi-core parallel processing power. The VPX3G10 is designed to enhance CPU multi-events processing and video decoding efficiency, big data comparison and system simulation computing power, and graphics processing performance while also reducing large CPU load and supporting optimal output of multiple video streams in each of up to four displays. The VPX3G10 is ideal for high resolution graphics capability requirements in applications such as defense, radar, sonar, UAVs and ground vehicles.
The 3U VPX3G10 GPGPU blade is offered in both conduction-cooled (VPX3G10-R2) and air-cooled (VPX3G10-A1) models and is compatible with ADLINK's VPX3000 3U processor blade, featuring a quad-core Intel® Core™ i7 processor with QM77 Express chipset. The VPX3G10 offers 2GB of GDDR5 memory, providing high-bandwidth access to data during massively parallel GPGPU algorithm processing, and follows the VITA 46.4 PCI Express® on VPX Fabric Connector specification. A maximum of four display output channels can be active at any one time, with support for single-link DVI x4 and VGA x1 to P2 ports (VGA on front panel in air-cooled model). Additional features include PCIe x16 Gen3 (x16/x8/x4/x1) ports and OS support for Windows 7, Windows 8.1, and Red Hat Linux 6.5.
"Our latest 3U VPX platform is proof of our commitment to the VPX form factor and its rugged applications," said Yong Luo, head of ADLINK's Embedded Computing Product Segment. "The VPX3G10's high resolution and high performance graphics capabilities are ideally suited for military uses such as 3D and tactical simulation, as well as surveillance, soldier training, and geographic database systems."
The VPX3G10 GPGPU blade and VPX3000 processor blade are available as part of a VPX development solution to help customers reduce technical risks, development time and associated costs. ADLINK's VPX starter kit provides the necessary hardware—including backplane, test frame and peripheral cards—and standard BIOS/firmware for system verification, board-to-board communication validation and compatibility testing.