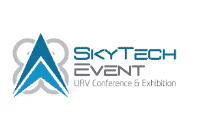 After the success of the first SkyTech event in April of this year, the organisers are delighted to announce the launch of SkyTech 2016, organised in collaboration with SUAS Global, RUSTA and Flightpath Consulting, which will take place on the 27th & 28th January 2016 at the Business Design Centre, London.
SkyTech 2016 is a two-day tradeshow dedicated to advancing the global commercial UAV industry. SkyTech aims to serve as a platform to encourage growth, further education and advance safety within this emerging market. Now in its second edition SkyTech is more than doubling in size and will feature 70 exhibitors, 50 speakers and over 3000 attendees.
SkyTech 2016 will provide information, connections and marketing solutions through an exhibition, conferences, workshops, product launches, live demonstrations and networking events. SkyTech is also a media platform and press day for the UAV industry across the UK, Europe and worldwide.
SkyTech will be attended by experts from across the UAV industry, bringing together manufacturers, suppliers, service providers, government, academia, investors, trade associations and regulatory bodies. SkyTech will also bring together buyers from a range of targeted industries including agriculture, environment, oil & gas, infrastructure, utilities, construction & property, policing, fire service, search & rescue, media, broadcasting and mining.
Exhibition
SkyTech's exhibition is completely free to attend and will feature the latest in cutting edge technology and services from across the global unmanned aviation industry. To secure you free exhibition tickets register now at https://skytech2016.eventbrite.
co.uk
Bookings for exhibition stands are now being taken. Organisations booking exhibition space before the 15th July 2015 will receive an early booking discount. Alongside its exhibition SkyTech will also feature a number of conferences and break-out workshop sessions providing information tailored to all aspects of the commercial UAV industry.
Workshops
SkyTech's breakout workshops are must-attend sessions for new and prospective UAV users. These free to attend, interactive sessions will give you everything you need to know about UAVs; get to grips with regulation & safety, meet with qualification providers and discover the next steps for incorporating UAVs into your business.
UAV Industry Conference
SkyTech's main conference will accommodate 500 delegates. Over the course of two days senior level speakers will present on matters of regulation, safety, investment, funding support, insurance, data protection, privacy and liability across the UK and globally. Industry leaders will showcase next generation technology and services through dedicated product launch sessions, whilst leading academics will provide the latest updates on industry research.
The Survey Industry Conference
SkyTech will also feature a two day conference dedicated to the rapidly expanding UAV survey industry. This conference will showcase the range of survey applications suited to UAV technology through a combination of academic, industry and end user led case study sessions. Day one will focus upon innovative uses for UAVs within the fields of agriculture and the environment, whilst day two will consider the role of UAVs for the oil & gas, mining, utilities, infrastructure and construction industries.
Applications Conference
SkyTech's applications conference will take place on the second day of the event. Manufacturers, solution providers and end users will present the latest advances and applications for UAVs within the fields of policing, search and rescue, fire service, security, real estate, media and broadcasting.
To purchase your conference tickets with our early bird discount visit https://skytech2016. eventbrite.co.uk