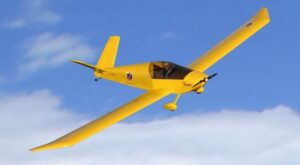 Sonex Aircraft, a manufacturer of kit and sport aircraft, has announced that it has signed a formal Business Collaboration Agreement with Navmar Applied Sciences Corporation (NASC), a specialist in Unmanned Air Vehicle (UAV) technology, for research, engineering and production of UAVs. The collaboration will begin with the Teros, a line of aircraft based on Sonex's Xenos motorglider. As the next addition to NASC's line of UAVs, which includes the TigerShark and Mako series of aircraft, the Teros will be an AeroVee Turbo powered aircraft that is capable of carrying significant fuel and mission payloads. The Teros is intended to provide extended range and high altitude performance in a wider range of environments and performing even more challenging missions than NASC's existing TigerShark series, which has performed exceptionally well for the company's Department of Defense customers.
"The Xenos Motorglider is a perfect fit for UAV application," stated Sonex Founder John Monnett. "The UAV mission is something we've been envisioning since the design of the Moni Motorglider in the 1980's, combining performance and efficiency with extremely simple and economical construction."
"Collaboration with NASC offers a wonderful opportunity for Sonex Aircraft, LLC to diversify its markets," said Sonex General Manager Mark Schaible. "Such diversification only serves to strengthen the level of service and quality offered to our existing customer base through growth and increased stability. When it comes to innovation, there's no question that Sonex and AeroConversions customers benefit from seemingly unrelated Sonex R&D efforts via new product derivatives that have the potential to reach the homebuilt aircraft and engine marketplaces. A prototyping and production agreement with NASC leverages our new in-house quick build production capability perfectly, allowing Sonex to maintain a strong production department with a steady workforce for consistent production of both Sonex Aircraft Quick Build Kit airframes, and airframes for NASC at an increased capacity."
Sonex and NASC officials selected the name "Teros" for this new line of UAVs as an extension of the name "Xenos" in the Greek language. While Xenos can generally be interpreted as a traveler with a diversity of roles, Teros is interpreted as a guardian who "watches over."
Ship sets of Teros aircraft will be produced by Sonex Aircraft, LLC at its Oshkosh, WI headquarters and delivered to NASC for integration and operation as UAVs. The first prototype Teros is slated for delivery to NASC in June 2015.
"Sonex Aircraft, LLC was selected to produce the aircraft for conversion to a UAV based upon their reputation for excellence in engineering, quality production and customer support," commented Chris Patton, NASC's Unmanned Aerial Systems Group Manager. "We look forward to expanding our relationship with Sonex to meet our customers' ever-evolving mission requirements."