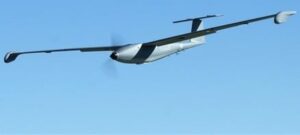 Kongsberg Gallium, a company that produces geospatial visualization software, has announced that it has developed a new safety display technology that could dramatically expand the capabilities of Unmanned Aerial Vehicles (UAVs) in ordinary commercial use. Development of the technology was partially funded by a federal research grant through the National Research Council of Canada Industrial Research Assistance Program (NRC-IRAP).
Currently, UAVs can only be flown for commercial purposes within the visual range, or "line of sight," of the operator. This restriction places a severe limit on the range and usefulness of UAVs for ordinary commercial purposes such as pipeline inspection or mineral exploration.
Kongsberg Gallium provides the geospatial visualization technology used in several large military UAV programs, and has created a software platform that can give UAV operators operating at ranges Beyond Visual Line of Sight (BLOS), the same level of spatial awareness they would have when actually piloting a light plane visually – what pilots refer to as "Visual Flight Rules". Providing real-time awareness of other aircraft, airspace and terrain will be critical to allowing UAV operators to gain regulatory approval to conduct commercial operations beyond Line of Sight.
When it comes, regulatory approval will open up thousands of new applications for UAVs and have an enormous impact on the burgeoning UAV industry – which has seen a tenfold growth since 2008.
"The revenues generated by the commercial UAV market will grow exponentially when Beyond Line of Sight operations are permissible and we feel this new safety display technology will be key to help operators to gain that approval" said Ranald McGillis, President of Kongsberg Gallium.
Kongsberg Gallium will be conducting demonstrations of this new display platform in a series of flights throughout the second half of the year using a long-range UAV designed and manufactured by Brican Flight Systems of Brampton, Ontario.