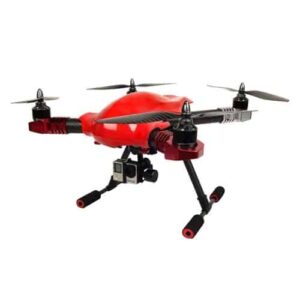 Flypro Aerospace Tech, a technology firm specialising in drones, has announced the launch of the FLYPRO PX400, following a successful crowdfunding campaign. The company claims that the PX400 is the world's first auto-follow and first-person video drone, capable of intelligent autonomous flight while simultaneously shooting stable, high-quality videos. It was designed with filmmakers, sportsmen and hobby enthusiasts in mind.
The FLYPRO PX400 comes with several autonomous flight options:
Follow Me: The drone auto-follows the user at a set distance and altitude without the need for manual control.
Vision Positioning System: Fly indoors without GPS.
Circle: The camera trains on a specific target while the drone circles at a preset radius and altitude.
Route Flights: The drone follows a predetermined flight plan set by the user and lands by itself after completing the route.
One-key Takeoff & Landing, Auto Return: One button takeoffs and landings make flying easier.
A user can also access a live map and radar to keep tabs on the UAV at all times, as well as a flight telemetry option, providing him or her with up-to-date information on speed, distance, altitude, and more.
The FLYPRO's aerodynamic design features a durable carbon fiber body and shockproof 3-axis gimbal for mounting the camera. The body is foldable for easy transportation.
"I want the design to have customers saying, "Wow!" at the very first glance," said Warren Zang, founder of Flypro. "I read a lot of books about automobile design. Since the automotive industry is the culmination of design, my drone had to be as cool as that."