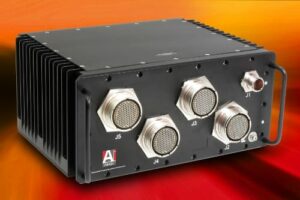 Aitech Defense Systems Inc., a manufacturer of embedded and mission-critical computing technologies, has announced the release of the rugged A661 48-Port Gigabit Ethernet Switch, which offers the largest number of GbE ports in a robust military qualified enclosure.
The new standalone, fully managed, Layer 2/3 IPv6 48-port Gigabit Ethernet switch efficiently and securely interconnects several subsystems to pass data across a rugged broadband network.
Durable and robust enough for use in several military, aerospace and LEO space environments, the radiation-tested and qualified A661 is ideal for interconnecting weapons platforms to multiple independent data servers creating large, compute clusters and interfacing to data archive drives. For example, it can provide control and data pathways to remote experiment Low Earth Orbit platforms including the International Space Station.
The compact 2 x 24 GbE switch unit is comprised of two of Aitech's Series 400 conduction-cooled C660 24-port Ethernet switches encased in a durable, lightweight, cold plate-cooled enclosure. It is EMI/RFI-protected and housed in a rugged chassis to withstand severe shock and vibration as well as exposure to environmental elements, such as altitude, humidity and temperature extremes.
Complete with its own operating system (OS) and Ethernet application, this new, managed switch requires no additional user code and functions and operates as a stand-alone unit.
An integrated, low-power, radiation-tolerant ARM Sheeva CPU core operates at 800 MHz, acting as a management and service processor and interfacing with a high-speed DDRII-320 MHz memory controller.
The C660 boards within the A661 support Layer 2 and Layer 3 routing and switching for all 48 ports via a Marvell Presera 98DX4122 multi-layer packet processor. All ports support connections up to 1000Base-T and offer many features such as auto negotiation, auto MDI/MDIX, HOL blocking prevention and flow control (IEEE 802.3x).
To enhance reliability and serviceability, the A661 includes BIT (Built-In Test) and board management devices including a system power controller, elapsed time recorder, temperature sensors and a real time clock. The system also provides full wire-speed non-blocking forwarding and advanced spanning tree algorithms to reduce data bottlenecks and minimize packet latency.
Additional management and configuration features include quality of service (QoS) prioritization, SNMP, VLANs, LAG, RSTP, VRRP, IGMP and traffic policing, providing customers the power and flexibility to meet their unique networking applications.
In place of harnessing, Aitech's proprietary solid-state transition module routes I/O signals between the backplane and the front panel connectors. This significantly enhances signal integrity and increases reliability by reducing discrete wire harnesses. In addition, an input power line filter integral to the transition module reduces induced or radiated EMI/RFI noise associated with the power cable.
Rugged, military-grade MIL-STD-38999 connectors on the front panel provide system power and I/O connections. Radiation tested and qualified for low Earth orbit, lower power versions of this switch are ready for space flight.
Technical Specifications:
48-port (2 x 24) managed Gigabit Ethernet switch (all 1000Base-T ports)
Rugged, compact, and lightweight construction; cold plate-cooled
Stand-alone unit with internal OS and Ethernet application
Layer 2 and Layer 3 management
Port-level security via 802.1x
Low Earth Orbit versions are also available