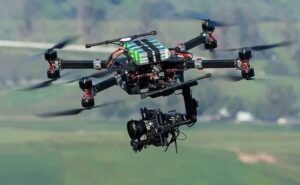 Helinet Aviation, an international flight services company, has announced that it has received a comprehensive FAA Certificate of Waiver or Authorization (COA) for commercial, unmanned aircraft system (UAS) flights. The COA provides Helinet with pre-approved authorization to shoot drone aerials on broadcast and motion picture sets without the need to apply for permission in advance.
The waiver represents an important expansion of Helinet's existing capabilities as an approved commercial UAS operator under the FAA's Section 333 Exemption. Specifically, the COA removes the requirement that Helinet apply on a case by case basis for advance approval to fly in a particular block of airspace. Helinet is one of the first companies to receive this blanket COA, which will allow it to shoot drone aerials for broadcast and motion picture productions without obtaining individual COAs for each assignment.
"The FAA's Section 333 Exemption has been an important first step in introducing the use of UASs' for commercial applications," said Helinet president Alan Purwin. "This new COA brings our UAS capabilities more in line with our traditional helicopter operations, allowing us to quickly respond to client projects without going through an individual, weeks-long approval process for each job."
The COA authorizes Helinet to operate a Gryphon Dynamics X8 quadcopter and a DJI S1000 octocopter at or below 200 feet above ground level (AGL) for the purposes of closed set filmmaking.