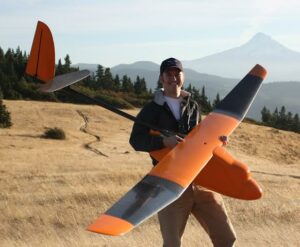 The Gooney Bird, an independently designed and constructed long-range drone, has been unveiled by its designer and fabricator Rob Coatney. The 13-foot-span vehicle was created to set new range and endurance records for sub-55-pound model aircraft and UAVs. The craft, sponsored by Cloud Cap Technology, Microhard Systems Inc. and C&H Ignitions, is currently under preparations for a summer 2015 record-breaking 100+ hour endurance flight of more than 5,000 nautical miles.
Coatney, an aero/mechanical engineer for Zepher Inc., commented, "I started with a conventional fixed-wing design. Then I distilled it down to the bare essentials and optimized everything that remained."
The prototype flew for the first time in the fall of 2014. It was glide tested under manual radio control with five pounds of iron ballast in place of the propulsion unit. Thanks to the help of several volunteers, the aircraft was launched into the strong ridge lift above Hood River, OR and the approximately 30-minute flight was video recorded. "I was a bit apprehensive about how strong the winds were, but 10 seconds after launch I had her trimmed out and I knew it was going to be a fun flight," said Coatney. "The hardest part was keeping it from climbing too high. But it performed fantastically, even pulling off a few graceful loops."
The airframe was designed and fabricated utilizing 3D CAD software, 3D printing, and the latest composite fabrication techniques. All major structural components are vacuum-infused carbon fiber, which gives superior surface finish and strength-to-weight ratio right out of the mold. The structure was designed to meet utility category load standards at the maximum takeoff weight of 55 pounds. It folds up compactly for easy transport, as will the new lightweight launcher that will accompany it.
Autopilot and propulsion integration are ongoing. It will be powered by a gasoline engine with a loiter-optimized propeller. All systems are designed for high reliability and all-weather capability.
A video of the Gooney Bird's first flight can be seen below.