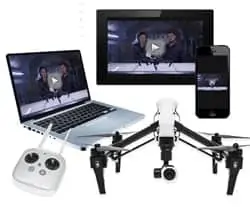 Drone Academy X, a provider of unmanned aerial systems training, has announced the release of an instructional video for the DJI Inspire 1, following on from the success of its Phantom 2 video. The 100+ minute video gives drone pilots of any skill level all the information they need to expertly operate their craft, covering everything from simple assembly and battery maintenance to the principals of aerial photography.
As the popularity of aerial drones has increased, so has the need for education on the piloting of these aircraft. But as flight characteristics and equipment vary from craft to craft, it is important that there be a training series that explores each craft individually. Through high quality video content and valuable in-class courses, Drone Academy X has established itself as a well-produced and informative Unmanned Aerial System based instructional series.
The host of Drone Academy X-Inspire 1 is Colin Burgess, a professional drone pilot with many years of experience piloting Unmanned Aerial Systems. Colin's co-host is film and television star Corey Feldman.