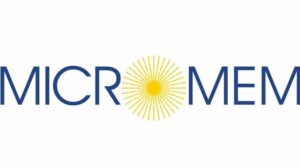 Micromem Technologies Inc., a designer and developer of sensor technologies, has announced that it has successfully demonstrated the installation of the mounting system that will be used to house its patent pending Power Line Condition Monitoring sensor suite using an Unmanned Aerial Vehicle (UAV). The sensor platform incorporates 14 MEMS sensors, scavenges power from the catenary using patent pending techniques, automatically establishes a mesh communication network upon installation and weighs less than two pounds. The system is fully operational upon installation and is an example of smart infrastructure that will provide wireless real time communication of the status of the power lines to a central station.
The test was done on power lines adjacent to the Vandenberg Air Force bases in California. The test established that Micromem can install approximately 20 units per hour. The trademark and patent pending "clam shell" being used is the actual size and weight of the housing unit and was manufactured by using a 3D printer.
The ability to use a UAV virtually eliminates the cost and time involved in the installation of these types of devices particularly over long distances and terrain that is difficult to access. This demonstration will allow Micromem, in conjunction with its utility partner, to begin installation for live testing of completed Power Line Monitoring sensor devices.