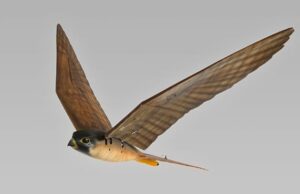 Clear Flight Solutions, a manufacturer of lifelike robotic birds, has received an €1.6 million investment from the Cottonwood Euro Technology Fund. The company's "robirds" were developed in response to the estimated billions of dollars of damage inflicted by real birds at airports, agricultural sites, waste management sites, oil and gas industrial sites and harbors worldwide.
The problem is that birds are intelligent and learn how to circumnavigate existing bird control solutions. Clear Flight Solutions' robotic birds mimic the real flight of a peregrine falcon (a natural predator for most nuisance birds) so well that real birds believe they are their natural enemies. This natural approach plays on the fear instinct of the birds, which short circuits the learning process and prevents habituation.
"We have completed a very successful trial at waste management site in Twente, which is one of the most challenging environments. Currently, we have committed to a number of trial runs and are in discussion across every application area – including one of the leading European airports. Cottonwood's investment will allow us to execute these trials, and their worldwide network with industry leaders will bring our company to the next level,' says Nico Nijenhuis, CEO of Clear Flight Solutions.
"The bird control problem is much bigger than we initially imagined. Clear Flight Solutions has developed technology with tremendous potential that addresses a global problem. We have also identified various other applications of the technology. That makes this the ideal business case for our first European investment,' says Ray Quintana, lead general partner of the Cottonwood Euro Technology Fund.
'The University of Twente is a pioneer of innovation and entrepreneurship. This first investment by Cottonwood in one of our spin-off companies proves our leading position and our quality,' says Victor van der Chijs, president of the University of Twente. 'This further validates that Twente and Kennispark are frontrunners in the European ecosystem for technology startups,' adds Kees Eijkel, CEO Kennispark Twente.