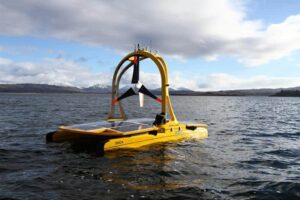 ASV Ltd., a manufacturer of unmanned marine systems, has announced that it has been awarded funding in partnership with nine other commercial and research organisations to undertake in excess of £3million worth of research and development for Maritime Autonomous Systems (MAS). The funding has been awarded by Innovate UK.
Three separate projects involving ASV will look to address different areas covering the wide spectrum of activities concerning Maritime Autonomous Systems. These include software and communications, operations and regulations, autonomous vehicle interaction and launch and recovery.
"ASV is delighted to be leading this pivotal research and development that will help secure the UK's place at the cutting edge of maritime autonomy", said Dan Hook, ASV Managing Director.
With growing demand for the operation of Unmanned Surface Vehicles (USVs) over the horizon, ASV will be working with D-RisQ, Cranfield University and Frazer Nash Consultancy to develop and prove this capability. The project will address software development as well as collision avoidance and regulatory considerations.
ASV will be using the C-Enduro alongside the National Oceanography Centre's Autosub Long Range to develop a low cost, integrated, shore based method of surveying the full water column. This autonomous surface/sub-surface survey system project also involving Sonardyne and SeeByte will offer long term and low cost surveying and monitoring operations for the offshore energy and mining industry.
In addition, the development of a system for launching and recovering an Autonomous Underwater Vehicle (AUV) from a USV will see ASV collaborate with Planet Ocean, NOC and the University of Southampton.