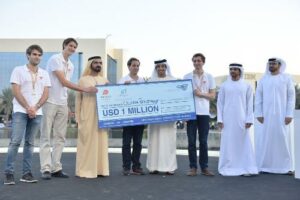 The winners of the first 'UAE Drones for Good Award', a competition showcasing drone-based solutions that improve lives, have been announced. The award was presented in the presence of His Highness Mohammed bin Rashid Al Maktoum, UAE ministers and international dignitaries. The competition, launched at the 2014 Government Summit, took place in Dubai Internet City in front of a large crowd of visitors.
Flyability from Switzerland won the US$1 million grant in the International Competition. The Flyability team has developed Gimball, a drone that can enter confined spaces and safely fly close to humans, proving to be highly effective in rescue missions. It is protected by a rotating cage which makes it capable of colliding with obstacles in challenging environments without losing its stability.
Flyability team lead Patrick Thevoz said, "We struggled to find funding to develop our search and rescue drone but this UAE Government Summit initiative, Drones for Good, means we can commercially develop our project within a year, and with Flyability able to go where it is dangerous for rescuers, help save lives.
"The Drones for Good Award is the first of its kind. It is inspirational, because while there are many awards for academic research there aren't many for the social application of new technology. It allows passionate teams like us to move forward and make this a reality. The Drones for Good Award is a unique opportunity to help people realize that these flying machines are capable of positively impacting society," he added.
Over the course of the two-day event, 39 semi-finalists in three categories presented live demonstrations of their projects to a panel of international judges. There was also a division for national competitors who won AED 1 million.
"The UAE Drones for Good Award is a tangible outcome of the vision of His Highness Sheikh Mohammed bin Rashid Al Maktoum to make optimal use of innovation and technology for the service of humanity. The UAE Drones for Good award exemplifies our commitment to setting global benchmarks in this endeavor," said His Excellency Mohammed Abdullah Al Gergawi, UAE Minister of Cabinet Affairs.
"I congratulate the winners of this great competition, which showed the amazing ways we can use drones for good. All the entries have the capability to transform the world to make it a better place to live in and we are optimistic that they will continue to inspire new breakthroughs," H.E. Al Gergawi added.
The winners of the UAE Government Entities Award and the National Competition were Etisalat and Wadi Drones respectively.