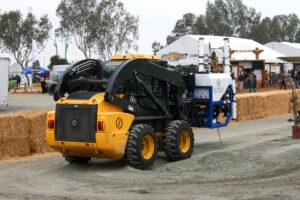 Autonomous Solutions, Inc. (ASI) has been included in Robotics Business Review's (RBR) annual RBR50 list as one of the most noteworthy companies in the global robotics industry for the second consecutive year.
With new companies entering the industry each year, the robotics field is becoming increasingly competitive. Of those companies, the RBR50 list outlines those that should be kept on the business and investment radar. RBR50 companies are recognized based on their innovation, groundbreaking application(s), commercial success and potential, and represent many different levels and facets of the robotics ecosystem.
"We're honored to be included on the RBR50 for the second straight year," said Mel Torrie, President and CEO of ASI. "Being included on this list shows that the members of the robotics community recognize the significant contribution that ASI has made and is making to the industry."
The RBR50 list is an international compilation that spans eleven countries. The list includes large conglomerates but also represents lesser-known startups which make up 20% of the list.
The RBR50 list is dynamic, with robotics companies entering and leaving on an annual basis. Thus, the list is an indication of where the global robotics industry as a whole is moving.
"2015: Year of the Inflection Point in robotics," said Tom Green, RBR Editor in Chief. "What a great time to be counted among the global best in the fastest rising industry in the world. Once again, the robotics community has done a stellar job in selecting those few to represent all."