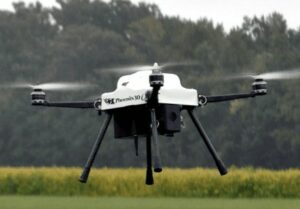 UAV Solutions, Inc. has announced that it has delivered four Phoenix 30 Quad Rotor Unmanned Aircraft Systems (UAS) in response to a contract award from the Department of the Army for Bulgaria under a Foreign Military Sale (FMS).
The vertical take-off and landing (VTOL) unmanned aircraft system is 20 inches by 20 inches, weighs approximately 10 lbs and carries a maximum two-pound payload. The UAS requires no assembly and takes only a few minutes to deploy. Endurance is 25 to 30 minutes depending on mission profile.
Under the terms of the contract, UAVS will conduct equipment training in mid-2015.
"The Phoenix 30 is a competent intelligence, surveillance and reconnaissance platform that will assist the Bulgarian national military forces with their operations," stated UAVS CEO and Chief Engineer Bill Davidson.