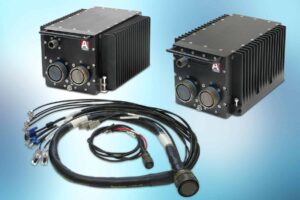 Aitech Defense Systems Inc., a developer of embedded computing technologies for mission-critical applications, has released the enhanced A191, a rugged, compact COTS HPEC (High Performance Embedded Computer).
The new, fully integrated subsystem combines a multi-core CPU to efficiently process overhead functions with an advanced GPGPU that focuses on executing heavy-duty system requirements. This integrated design delivers performance of nearly an order of magnitude greater than would be accomplished with CPUs alone, using roughly the same power consumption.
Requiring zero NRE, the compact, lightweight A191 is a fully tested system, with the operating system and drivers pre-installed, so it is ready to boot upon power up. Its rugged design easily withstands severe elements found in a number of critical military environments, and its efficient use of power makes it ideal for manned and unmanned applications alike.
From C4ISR, SIGINT, COMINT/ELINT, guidance and autonomous flight control to electro-optic visual, IR and SAR sensor fusion, static and moving target recognition, on-board weapons management and fire control, the new A191 continually provides exceptional processing.
The new RediBuilt rugged HPEC features a 4th Generation Intel Core i7 processor on Aitech's C873 SBC or Freescale's latest QorIQ multi-core SOC processors on the C912 SBC. Users can choose either an NVIDIA GeForce or AMD/ATI Radeon GPU to be incorporated onto a C530 GPGPU board. An embedded frame grabber provides video input capture, coupled with a large, internal solid state SATA disk.
Extensive I/O includes numerous video formats, Ethernet, serial and USB ports, and the on-board 1 TB of Flash-based SATA mass storage eliminates the need for external storage or mechanical/rotating media drives.
Finned for ambient free-air cooling or a cold plate, the unit measures 155 mm (6.1″ W) x 260 mm (10.26″ D) x 126 mm (4.96″ H) and weighs less than 6.8 kg (15 lbs) complete. Internally, the A191 uses conduction cooling.
A two-slot 3U VPX backplane and a proprietary Aitech front panel I/O board provide all system interconnections and filtering circuitry. The high-efficiency modular power supply ensures reliable operation over a wide range of input voltages. Predefined interconnect and power cables are readily available to connect to industry-defined, commercial standard I/O – just plug into a 28 VDC power source and start running your application.
Relying on its more than 30 years of military computing expertise, Aitech designs, builds and tests all aspects of each integrated RediBuilt HPEC to ensure full operation and reduce program risks.
The new A191 RediBuilt meets the needs of the following UAV classifications:
NATO-type 10,000 ft (3,000 m) altitude, up to 50 km range

Tactical 18,000 ft (5,500 m) altitude, about 160 km range

MALE (medium altitude, long endurance) up to 30,000 ft (9,000 m) and range over 200 km

HALE (high altitude, long endurance) over 30,000 ft (9,100 m) and indefinite range

Hypersonic high-speed, supersonic (Mach 1-5) or hypersonic (Mach 5+) 50,000+ ft (15,200 m) or suborbital altitude, range over 200 km

CACGS (computer assisted carrier guidance systems)