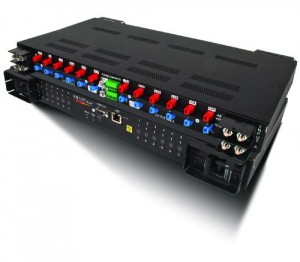 API Technologies Corp., a provider of high performance RF/microwave, power and security solutions for high-reliability applications, has announced that its DC SMARTStart® Power Distribution Unit (PDU) for remote, switched and sequenced power will be used on unmanned boats by the United States Navy. Termed as "swarm" boats, these autonomous vessels are currently being tested by the U.S. Office of Naval Research (ONR).
API's DC SMARTStart is a solid state power controller and circuit protection unit used to remotely power all the electronics on the unmanned boats, giving the operator the ability to power up and shut down devices when not in use to conserve battery life. The PDU also gives the operator the ability to recycle power on and off to reboot devices if they lock up.
"Having the ability to remotely power electronics both on and off while providing circuit protection to the connected loads allows these unmanned vessels to extend their mission by increasing battery life," said Leonardo Marsala, Director / General Manager, API Technologies, Power & System Solutions. "The solid state power controller and distribution unit is an ideal solution for unmanned boats as it has the ability to power several devices at once with the intelligence to reset them if there is a disruption to power."
API's DC SMARTStart is available in -48 or +24 VDC with 12 channels. It is now available with reduced lead times and can be used in many applications such as autonomous swarm boats, command post platforms, competitive local exchange carriers (CLECs), incumbent local exchange carriers (ILECs), XDSL applications/CATV enterprises, and blade servers.