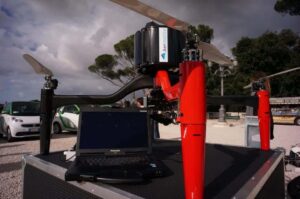 Aermatica, a manufacturer of remotely piloted aircraft (RPA), in conjunction with the Italian National Research Council (CNR), has announced the development of a drone specifically designed to detect asbestos in the environment.
The initiative is being promoted by the Counsellor for the Environment of Rome, together with ACI Consult, a provider of advanced traffic and environmental services, and the Italian Association of the Asbestos-Exposed (Associazione Italiana Esposti all'Amianto – AIEA).
The drone features an integrated hyperspectral sensor and compact camera. During flight the hyperspectral sensor detects frequencies issued by the target surface and identifies the specific signature frequency of asbestos. Data related to the state of deterioration of the asbestos can then be used to establish a plan of removal priorities. ACI Consult will organize the flight and mapping, with the areas of investigation being dictated by the City Council. Aermatica will collect the data acquired by the drone and deliver it to CNR, who will then analyse the data and draw up the final report. This entire process can be carried out at a significantly lower cost than using a manned aircraft.
Any prolonged exposure to asbestos can cause serious breathing problems and other lung disorders. In Italy alone there are approximately 4000 deaths per year among workers who have suffered significant exposure to asbestos.
The drone is expected to start operations in Rome in the spring of 2015.