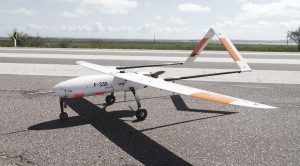 UMS Group AG, a Swiss/Swedish unmanned systems developer and manufacturer, has demonstrated their F-330 tactical fixed-wing UAS to a delegation of over 60 VIPs in Uruguay, making them the first ever European UAS provider to fly an Unmanned System in the country. The VIP list included the Minister of Defence, several high-ranking officers from across the military, experts from the world of agriculture and a selection of the country's national media.
UMS Group was working alongside their established partner, Uruguayan Aerospace and Logistics (UAL), and participated in two separate demanding flight demonstrations/trials.
The first was held on the outskirts of the Santa Terresa Army base in the north of the country. The 2-hour flight showcased the tactical UAS's ability to carry out several roles, including Convoy Support, Route Surveillance, Direct Support and several civil applications including airborne police support and agricultural surveillance/monitoring.
The main focus was showing and proving the utility of UAS to the Uruguayan Army as a potential capability enhancement to their commitment to United Nations operations, as well as hopefully providing the country with its first military national system. The capability was put through its paces in a second airborne assessment, this time highlighting the extreme flexibility of the system by looking to test the 8 hour endurance and the operational 50km limit of the system, while launching and recovering from an unprepared rough strip by day or night.
Markus Huber, central member of the UMS Group Board said:
"I am extremely pleased to be able to bring one of UMS Group's 3 systems all the way to South America and be the first to successfully show off its capabilities to potential military and civilian customers here. It highlights the extensive abilities and skills of both our company and people and aptly shows we can deploy just about anywhere that is needed."